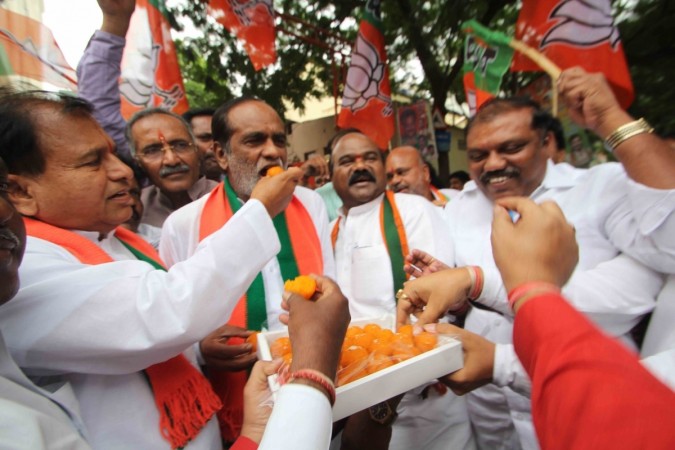 The Congress lost ground all around — except in Puducherry — as the BJP claimed victory in Assam and made inroads into West Bengal and Kerala. Otherwise, regional parties and alliances ruled the roost in the politically significant states of Tamil Nadu, West Bengal and Kerala.
Here are some of the highlights of the results of the state elections declared on Thursday:
1. There is only one state in the country that has more women than men — Kerala. However, only eight women have been elected to the 140-member state assembly this time.
2. S Sreesanth, who was roped in by the BJP to garner youth votes in Kerala, lost the Thiruvananthapuram constituency to the Congress' VS Sasikumar.
3. However, the Left Democratic Front's jubilance saw a setback when a bomb hurled at the crowd celebrating CPI(M) Polit Bureau member Pinarayi Vijayan's win in Palakkad reportedly resulted in the death of one man.
4. Meanwhile, the BJP managed to get its first MLA in Kerala in the form of O Rajagopal, who won from Nemom.
5. J Jayalalithaa managed to pull of a feat of sorts by beating the anti-incumbency factor in Tamil Nadu, though not by a big margin. No party had returned to power in the state twice consecutively since 1984.
6. It was a mixed bag election results for the Left Front. While the party and its allies returned to power in Kerala, West Bengal saw them losing ground further this time.
7. Meanwhile, despite winning more than 200 seats, the Trinamool Congress saw a couple of setbacks in the form of the Saradha scam accused Madan Mitra losing from Kamarhati constituency and incumbent power minister Manish Gupta losing from Jadavpur.
8. However, that does not take away the fact that this is the first time a party has won the Assembly elections in the state while contesting alone since 1962, when the Congress had won the election. The Trinamool Congress had contested the previous assembly elections in the state as part of the United Progressive Alliance.
9. The BJP has more than tripled the number of seats in the Assam Assembly this time as compared to the last time, while the Congress tally has been reduced to less than a third of what it was in 2011.
10. The Congress is now in power in only one major state — Karnataka. Following the results on Thursday, Congress Vice-President Rahul Gandhi tweeted: "We accept the verdict of people with humility," while his mother and Congress President Sonia Gandhi told ANI: "We accept the verdict of the people of Assam. We will introspect into reasons for our loss and will rededicate ourselves to service of people with greater vigour."