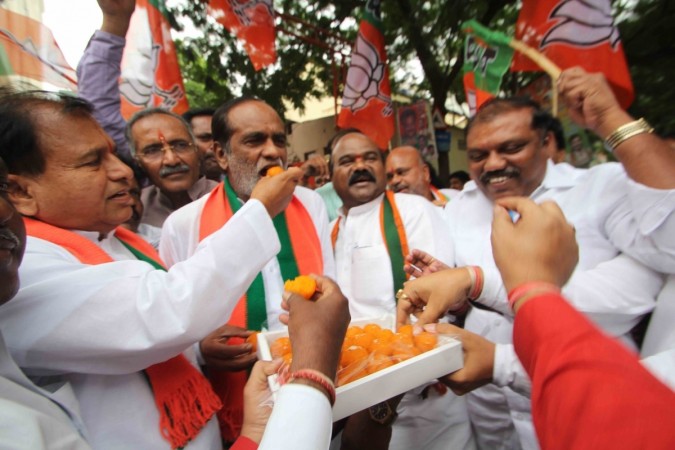 The Bharatiya Janata Party (BJP) finally made a debut in an eastern state with its victory in Assam, which was ruled by the Tarun Gogoi-led Congress government for the past three consecutive terms. The BJP and its alliance won over 60 seats of the126 Assembly seats while the Congress got 26.
BJP's Sarbananda Sonowal, who was declared the party's chief ministerial candidate, won his constituency Majuli. Although the Congress suffered a setback in the state, Gogoi managed to retain his constituency Titabar. He congratulated the BJP for the victory.
"We accept the mandate of the people. I thank the people of Assam for giving us three terms to serve them. Now the people want us to sit in the opposition and play the role of a constructive opposition and I thank the people for that," NDTV quoted Gogoi as saying at his official residence at Koinadhara Hills in Guwahati.
The victory is Assam is a big gain for the BJP as it managed to win a mandate in the state where 34 percent of the population are Muslims. The BJP had forged an alliance with local parties and ethnic groups like the Asom Gana Parishad (AGP) before the elections.
BJP president Amit Shah addressed a press conference in New Delhi on Thursday and was quoted by the Hindu as saying: "Assam's victory is important in many ways, given that it is a border state. Govt is committed to the development of the state."
Prime Minister Narendra Modi said the victory in Assam was historic. "BJP will take the state's development journey to new heights," the Indian Express quoted him as saying.
"Heartiest congratulations to Assam BJP Karyakartas and leaders for the exceptional win. This win is historic by all standards. Phenomenal! Across India, people are placing their faith in BJP and see it as the party that can usher in all-round and inclusive development," Modi tweeted.
The Assembly elections were also held Tamil Nadu, Kerala, West Bengal and Puduchery. While Mamata Banerjee and J Jayalalithaa returned to power in West Bengal and Tamil Nadu, respectively, the Left Democratic Front defeated the Congress in Kerala. However, the Congress won the elections in Puducherry.