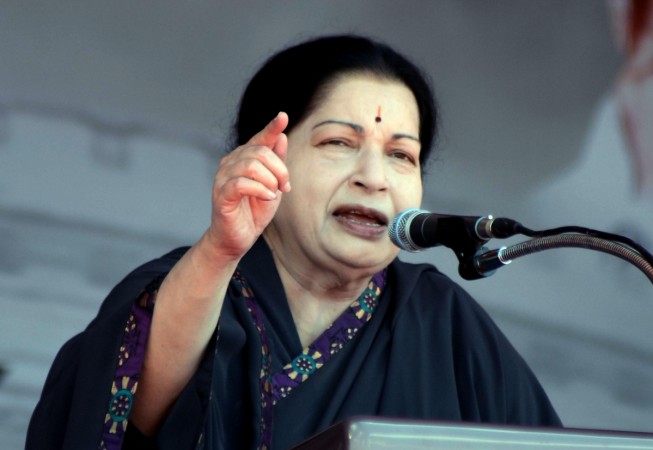 Update: May 6, 9:40 a.m. IST — Tamil Nadu Chief Minister and AIADMK chief J Jayalalithaa promised to give cell phones to 1.92 crore rationcard holders, 50 percent subsidy to working women for scooters, 100 units of free electricity and free WiFi at public spaces, the Times of India reported.
"I have fulfilled all the promises made in the last election. This time I'll do more than you can imagine (if returned to office)," she said during an election rally.
Jayalalitha also promised benefits for farmers like loan waivers, Rs 40,000-crore loans for farmers from 2016-21, apart from a no FDI in retail policy. For students of class 10 and 12, she announced free laptops with internet. She also announced free set top boxes to all Arasu cable TV subscribers.

DMK chief M Karunanidhi had earlier promised tablets for 16 lakh school students and smartphones for the poor, apart from subsidies and loan waivers to farmers and students. He had also promised a decrease in prices of milk, the TOI reported.
Update: May 5, 4:16 p.m. IST — Trinamool Congress (TMC) leader Subir Sarkar was shot in West Bengal's Bahrampur area on Thursday. The TMC district secretary of Murshidabad was critically injured and has been taken to the hospital.
There were some reports of violence in the state, which has its last phase of elections on Thursday, NewsX reported.
Update: May 5, 12:35 p.m. IST — More than 23 percent electorates turned up to vote in East Midnapore and Cooch Behar districts in the first two hours since voting began in the last leg of the West Bengal Assembly elections.
Update: May 5, 9:41 a.m. IST — Voting began in parts of West Bengal for the sixth and last phase. People lined up outside polling booths in East Mindapore and Cooch Behar districts to cast votes. As many as 25 seats are in the fray.
Update: May 4, 1:50 p.m. IST — At least four bombs were discovered at a polling booth in West Bengal's East Midnapore district on Wednesday. The sixth and last phase of elections will be held in West Bengal on Thursday.
Update: May 3, 12:32 p.m. IST — The Election Commission has identified at least 711 locations and more than 1,233 polling booths as "critical" or "vulnerable" in Kerala before the May 16 Assembly polls.
Update: May 2, 4:15 p.m. IST — The National Human Rights Commission served notices to the chief secretary of Tamil Nadu and the director general of police for alleged human rights violations during political rallies in the state in scorching heat, ANI reported.
Five people have reportedly died due to heat strokes as they participated in rallies in the poll-bound state.
Update: May 2, 10:43 a.m. IST — A crude bomb explosion killed four people and injured six others on Sunday night in West Bengal's Malda district. The people were involved in the making of crude bombs, sources told DNA.
The injured are undergoing treatment at the Malda Medical College and Hospital.
Bomb-making equipment and explosives were found at the house, which has now been sealed for examination by the police.
Update: April 30, 4.26 p.m. IST — The Election Commission ordered on Saturday an FIR against Trinamool Congress MLA Sonali Guha after she was caught on video ordering someone on the phone to beat up CPI(M) polling agents.
Update: April 30, 2:00 p.m. IST — Voter turnout in West Bengal's fifth phase of the assembly elections was recorded at 54.75 percent by 1 p.m. on Saturday.
Update: April 30, 11:11 a.m. IST — Almost 20 percent voter turnout was recorded till 9 a.m. IST during the fifth phase of the West Bengal Assembly elections on Saturday.
Former Indian cricketer Sourav Ganguly and Chandra Bose, Netaji Subhash Chandra Bose's nephew who is contesting elections with a Bharatiya Janata Party, cast their votes on Saturday.
Meanwhile, Trinamool Congress and Communist Party of India (Marxist) [CPI(M)] workers clashed in Arambag, Hooghly, injuring one CPIM supporter.
Update: April 29, 5:20 p.m. IST — The fifth phase of the West Bengal Assembly elections will take place on Saturday, April 30, 2016.
Voting will begin at 6 a.m. on Saturday.
Update: April 29, 5:18 p.m. IST — At least 3,000 paramilitary forces will be flown to Kerala for the May 16 Assembly polls. They will be flown by Air India from West Bengal, where they are currently deployed.
Update: April 28, 5:39 p.m. IST — Tamil Nadu Chief Minister J Jayalalithaa said during an election rally on Wednesday that the DMK-Congress alliance in teh state was a "coalition of loot," while raking up all the corruption charges against the two parties.
Update: 4:59 p.m. IST — Pattali Makkal Katchi's (PMK) Salem West constituency candidate R Arul and another party functionary were allegedly attacked by unidentified men in Salem. Bike-borne assailants attacked Arul, and a few others who were present at his office on Monday night.
Arul and his assistant have been admitted to the Salem Mohan Kumaramangalam Medial College Hospital.
Update: 12:16 p.m. IST — Congress Vice President Rahul Gandhi and former Chief Minister Buddhadeb Bhattacharya will reportedly campaign together in Kolkata on Wednesday in a show of alliance between the Congress and the Communist Party of India(Marxist).
Original Story — Tamil Nadu Chief Minister J Jayalalithaa and her opponent M Karunanidhi on Monday filed their nominations for Assembly elections scheduled for May 16 from the R K Nagar and Tiruvarur constituency, respectively.
Elections are ongoing in West Bengal, where the last two phases are left, while polling in Assam is over. Assembly elections in Tamil Nadu, Kerala and the Union Territory of Puducherry will take place on May 16.
Elections in West Bengal are being conducted in six phases, of which the first was divided into two parts. Elections in Assam took place in two phases, on April 4 and 11.
The votes will be counted on May 19 in all the four states and the Union Territory.
In West Bengal, the elections so far have seen heavy turnout despite incidents of violence between various political parties. Elections in Assam were completed in relative peace. The second phase saw a heavy turnout of 82 percent.
Also read: Jayalalithaa to seek dual citizenship for Lankan Tamils
In Tamil Nadu, Chief Minister J Jayalalithaa's All India Anna Dravida Munnetra Kazhagam (AIADMK) will lock horns with M Karunanidhi's Dravida Munnetra Kazhagam (DMK), which is contesting in alliance with the Congress party.
Multiple political parties have come together in Tamil Nadu to form the Desiya Murpokku Dravida Kazhagam (DMDK)-People's Welfare Front (PWF) alliance, which has projected itself as the third front. Their chief ministerial candidate is Vijayakanth, who is popularly known as "Captain." Many members of his party defected recently and joined other parties, majorly the DMK.
In Kerala, the Congress-led United Democratic Front (UDF) hopes to maintain its majority. However, the people of Kerala have elected the UDF and Left Democratic Front (LDF) alternatively since 1982, according to Firstpost.