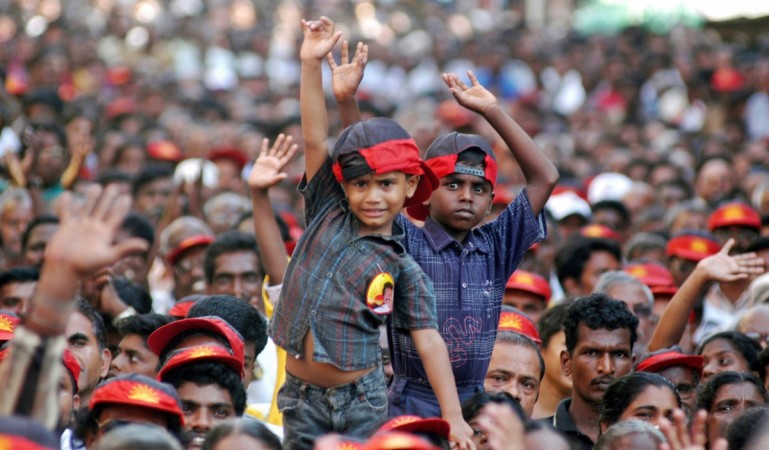 A day after GK Vasan's Tamil Maanila Congress (TMC) joined the People's Welfare Front (PWF), a faction of the Desiya Murpokku Dravida Kazhagam (DMDK) formed a new party called the Makkal Desiya Murpokku Dravida Kazhagam. At least 10 MLAs defected from the DMDK had held a press conference questioning the party's alliance with the PWF.
The PWF, touted as the third front in Tamil Nadu assembly elections, is a coalition between Vaiko's MDMK, Vijayakanth-led DMDK, Viduthalai Chiruthaigal Katchi (VCK), TMC, Communist Party of India and Communist Party of India (Marxist). The coalition finalised its seat sharing Saturday.
The DMDK will be contesting 104 seats and Vijayakanth has been projected as the chief ministerial candidate, the MDMK would contest 29 seats, TMC-led by former Union Minister Vasan will have its candidates on 26 seats, while the Dalit party VCK and the left parties together will fight a total of 25 seats. The TMC joined the PWF after a coalition with the AIADMK failed.
Rebel MLAs of the DMDK were expelled after a press conference held by them last week. The new party floated by the faction is being led by MLA VC Chandrakumar, SR Partipan and CH Sekar, reported the Hindu.
"The objective is to remove the anti-people AIADMK and to pave way for a government that is to the liking of Tamil Nadu," Chandrakumar told the Hindu.
The former DMDK MLAs had questioned the party's haste in ousting them, Firstpost reports. A week before, two other DMDK MLAs who questioned the alliance with the PWF had quit the party to join the DMK.
Party members had alleged that the PWF is acting like a "B-team" for Jayalalitha's AIADMK, and the leader had gone against the sentiments of the district secretaries by joining the PWF as they were more inclined towards the DMK, according to the Hindu. They also criticised Vijayakanth's wife Premalatha, who is the leader of the women's wing.
Sekar told Firstpost that the party has been taken over by "kitchen Cabinet."