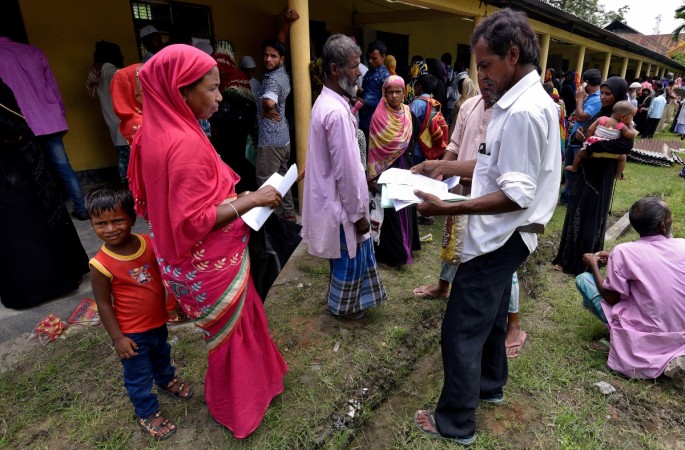 The National Registrar of Citizens (NRC) has, until now, verified the names of 2.89 crore people in Assam as legal residents of India. However, of the 3.29 crore applications, 40 lakh names had been left out in the draft and were told that they could file their claims and objections by December 15.
The 40 lakh names were left out as their ancestry could not be traced and hence it wasn't known how and when they came to India.
As the deadline is less than a fortnight away, how many of these claims and objections have actually been filed? Just 7 lakh, reports the Indian Express. Assam Chief Minister Sarbananda Sonowal also believes that more number of claims should have been filed since July 30, and said in a press statement that the figures were "very dissatisfactory."
The figure might just be a hint at how the procedure to file claims and objections may be a lengthy and tiresome one. Not just the filing process, residents seem to be having a tough time tracing their ancestors to prove that the family had entered India by the midnight of March 24, 1971, thus becoming legal citizens under the Assam Accord of 1985.
For instance, Hanif Ali, a resident of Majortop village in Kamrup district has not filed a claim as he spent almost a month looking for his ancestors. Hanif had reportedly listed a Mokrum Ali as his grandfather and used his data for the family tree. However, it later turned out that this was a different Mokrum Ali and Hanif was not a part of the family.
He then intended to list his father Rustom Ali and use his data, but couldn't do so as the Supreme Court has ordered that an applicant cannot change the legacy person once the application has been filed.
"I travelled to Tiapara, around 120 km away from Majortop. After weeks, I found out that my grandfather lived not in 62 Tiapara (as he had mentioned in the NRC papers) but in 63 Tiapara," Hanif told the Indian Express. "I have now found the name of my actual grandfather in both the 1951 NRC as well as the 1954 voters' list. This took time. I will file the Claim soon."
While a freeze on the legacy person is creating quite some issues for applicants, the trouble doesn't end there. Residents are also facing problems in filing claims as the date for documents that could prove their ancestry also comes with a cut off of August 31, 2015. Any document beyond this date is not accepted.
The fact that many of these applicants are poor and illiterate doesn't help matters, explained Akram Hussain, the panchayat president of Hatisala-Bhalukabari. "There is confusion regarding which documents to submit afresh. Illiterate, poor people, who comprise a large percentage of those excluded, do not understand much of the complexities," he told IE.
Meanwhile, many residents are yet to file an objection to their names being excluded from the NRC draft and the figures currently stands at around 200.
While the procedure and the need to identify the legal citizens of the country in Assam has now been slammed by many, the move garnered quite a positive response in the beginning. The NRC report was not only expected to clear out the issue of migrants in Assam, but was also likely to bring better days, especially for the Bengali-speaking Muslims in the state, who are often called Bangadeshis and considered foreigners or outsiders.
Speaking of this change, Abul Kalam Azad, a researcher with Tata Institute of Social Studies, had at the time told the Times of India: "It is going to change how the rest of Assam looks at us."
The residents were also pleased with the apex's court decision to make panchayat certificates valid for women when it comes to proving their ancestry. "Our girls do not go to schools, aren't born in hospitals, and are married off early. So they have neither a school nor birth certificate to show their legacy linkage," Azad had added.
The first NRC draft with 1.9 crore names was published on January 1, 2018, while the second and final draft came on July 30.