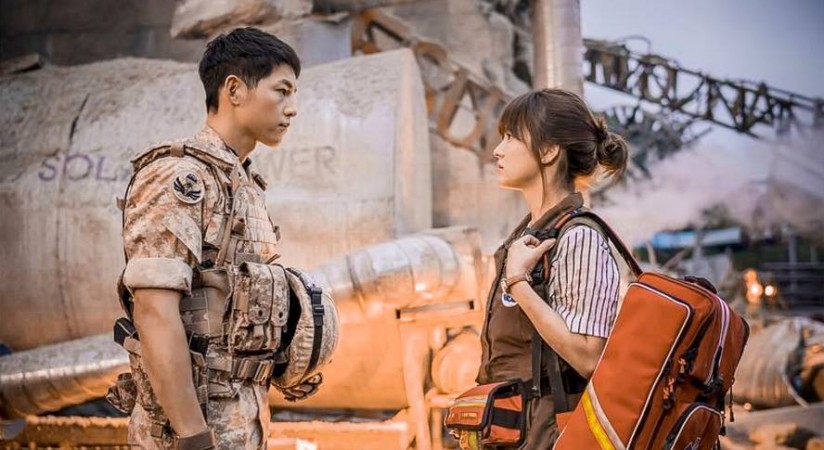 The 21st Asian Television Awards, Asian TV industry's most significant and celebrated event, has revealed the nomination list of 2016. The nomination list comprises over 40 categories, including best sports programme, best documentary, best drama, best actor and actress, and best reality show.
The nomination list also includes popular Indian television shows like Power Couple India, Jhalak Dikhhla Jaa Reloaded, Pro Wrestling League and others. KBS drama Descendants of the Sun, starring Joong Ki and Song Hye Kyo, has been nominated in the best drama series and MasterChef Australia season 7 has been nominated in the best reality show category.
The award ceremony will be held at Suntec City Singapore International Convention and Exhibition Centre on December 2. Adrian Pang, Stephanie Carrington, Alden Richards, and Baki Zainal will host the Asian Television Awards 2016, while JJ Lin, Charli XCX and Rossa Roslina are expected to perform live.
Check out the complete nomination list here:
BEST DOCUMENTARY PROGRAMME (ONE-OFF/ SPECIAL)
ISIL and the Taliban
Al Jazeera English
Qatar
Wild City – Islands
Mediacorp Pte Ltd
Channel NewsAsia
Singapore
Produced by Beach House Pictures
Operation Everest – Summiteers to Saviors
New Delhi Television Limited
NDTV Profit & Prime
India
Undercover Asia – India's Cancer Express
Mediacorp Pte Ltd
Channel NewsAsia
Singapore
The Phone of the Wind: Whispers of Lost Families
NHK (Japan Broadcasting Corporation)
General
Japan
BEST DOCUMENTARY SERIES
Get Real
Mediacorp Pte Ltd
Channel NewsAsia
Singapore
China From Above
China Intercontinental Communication Center
National Geographic Channel
China
Saltwater Heroes
Discovery Networks Asia-Pacific Pte Ltd
Discovery Channel
Singapore
Produced by Northern Pictures
Inside the Storm: Lessons from the Boardroom
MAKE Productions Pte Ltd
Channel NewsAsia
Singapore
The Tokyo Trials
Shanghai Media Group
International Channel Shanghai
China
The New Silk Road
Mediacorp Pte Ltd
Channel NewsAsia
Singapore
BEST NATURAL HISTORY OR WILDLIFE PROGRAMME
Green Animal
EBS (Educational Broadcasting System)
EBS1
Korea
Manas: Return of The Giants
Discovery Networks Asia-Pacific Pte Ltd
Discovery Channel
Singapore
Produced by Kosmik Global Media Private Limited
Black-Necked Crane
Shanghai Media Group, DocuChina
Shanghai Documentary Channel
China
ORIGINS OF LAND: Nishinoshima Island
NHK (Japan Broadcasting Corporation)
General
Japan
Scent from Heaven: On the Trail of Oud
Al Jazeera English
Qatar
Korean Geographic – The Hantan River, The Lifeline of a Lava Plateau
Korean Broadcasting System
KBS1
Korea
Wild City – Islands
Mediacorp Pte Ltd
Channel NewsAsia
Singapore
Produced by Beach House Pictures
Jawai: India's Leopard Hills
Discovery Networks Asia-Pacific Pte Ltd
Discovery Channel
Singapore
Produced by Robin Roy Films
Best News Program
Reporting from Pyongyang
Mediacorp Pte Ltd
Channel NewsAsia
Singapore
The Buck Stops Here: Terror in Pathankot
New Delhi Television Limited
NDTV 24×7
India
News Stream
Turner Asia Pacific
CNN International
Hong Kong
Squawk Box Asia
CNBC Asia Pacific
CNBC
Singapore
60 Minutes, Belt and Road Initiative, what we must know
China Television Company
CTV
China
BIG5@10
TV18 Broadcast Ltd
CNN-News18
India
Newsday
British Broadcasting Corporation
BBC World News
Singapore
Produced by BBC News (Asia Bureau) Pte Ltd
Best Single News Story/Report (10 minutes or less)
China's Left Behind Children
British Broadcasting Corporation
BBC World News
Singapore
Produced by BBC News (Asia Bureau) Pte Ltd
The Human Cost of a Cup of Indian Tea
British Broadcasting Corporation
BBC World News
Singapore
Produced by BBC News (Asia Bureau) Pte Ltd
Adopting JiaJia: Abandoned Chinese boy heads 'home' to U.S.
Turner Asia Pacific
CNN International
Hong Kong
South China Sea: Flying into Asia's Flashpoint
British Broadcasting Corporation
BBC World News
Singapore
Produced by BBC News (Asia Bureau) Pte Ltd
China's Black Market Organs
British Broadcasting Corporation
BBC World News
Singapore
Produced by BBC News (Asia Bureau) Pte Ltd