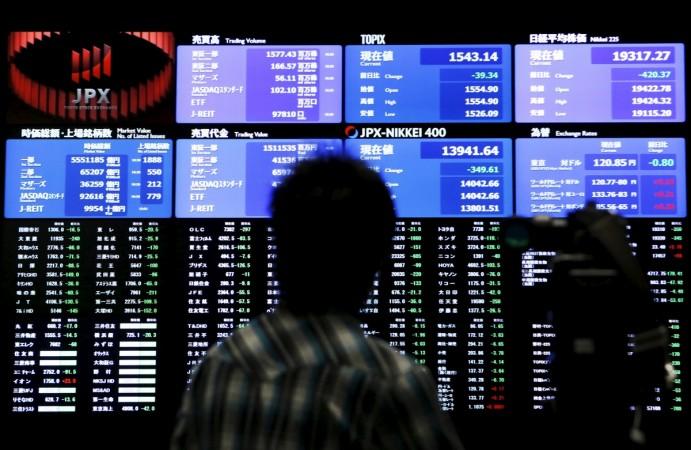 Asian shares began the week under a cloud on Monday after losses on Wall Street, and as investors' attention turned from central banks to American politics ahead of the first US presidential debate.
Half of America's likely voters will rely on the presidential debates to help them make their choice between Republican Donald Trump and Democrat Hillary Clinton in the November 8 election, according to a Reuters/Ipsos poll released on Monday.
The gloomy mood was likely to continue into the European session, according to financial spreadbetters.
"A good performance from Trump could see market volatility increase, particularly if investors think there is a possibility that he could actually win," wrote Michael Hewson, chief market analyst at CMC Markets in London, who expected Britain's FTSE 100, Germany's DAX and France's CAC 40 to all open lower.
MSCI's broadest index of Asia-Pacific shares outside Japan extended early losses and was down 0.8 percent by afternoon, while Japan's Nikkei stock index ended down 1.3 percent.
Wall Street logged weekly gains but ended with solid losses on Friday. Still, the S&P 500 managed to record its best weekly performance in more than two months after the U.S. Federal Reserve held interest rates steady on Wednesday.
Monday evening's showdown between Trump and Clinton (0100 GMT in Asia on Tuesday) is the first of three debates. It could set U.S. television audience records and will also be watched around the globe.
"There won't likely be any outcome affecting the Japanese market directly, but investors are watching how the currency markets will move. Anything triggering fears for a strong yen trend is negative to stocks," said Takuya Takahashi, a strategist at Daiwa Securities.
Clinton will press Trump to provide more specifics on his policies, two top Clinton campaign aides said. Asian investors in particular will be looking for more comments from both candidates about their positions on free trade deals.
The dollar slipped 0.2 percent to 100.86 yen, moving back toward a one-month low of 100.100 touched last week.
"People are worried about the uncertainty about the election, so for a while, the yen stay around its current level, between 100 and 101 yen, that area," Harumi Taguchi, principal economist at IHS Markit in Tokyo.
The euro inched up slightly to $1.1227.
Underpinning the greenback, Boston Fed President Eric Rosengren said on Friday that he believed U.S. short-term interest rates should be raised now and warned a decline in the jobless rate below its long-run sustainable level could derail economic recovery.
Japanese government bonds were quiet, with the superlong zone modestly weakening.
Investors will likely pay more attention than usual to JGBs this week, after the Bank of Japan announced last week that it is shifting its monetary policy framework to yield curve control, with the aim of pushing down short- to medium-term borrowing costs while allowing for a natural rise in super-long yields.
Under yield curve control, the central bank will be able to conduct JGB purchases in a more flexible, effective manner than before, BOJ Governor Haruhiko Kuroda told business leaders in Osaka, western Japan on Monday.
He said the pace of the BOJ's government bond buying may fluctuate under the new system, though there would be no policy implication to such changes.
U.S. crude futures CLc1 rose 0.9 percent to $44.87 a barrel, after tumbling 4 percent on Friday on signs Saudi Arabia and arch rival Iran were making little progress in achieving preliminary agreement ahead of this week's meeting of the Organization of the Petroleum Exporting Countries (OPEC).
For the week, U.S. crude still managed to gain 3 percent.
Brent crude LCOc1 rose 1 percent to $46.34 a barrel, after shedding 3.7 percent on Friday. For the week, it rose 0.3 percent.