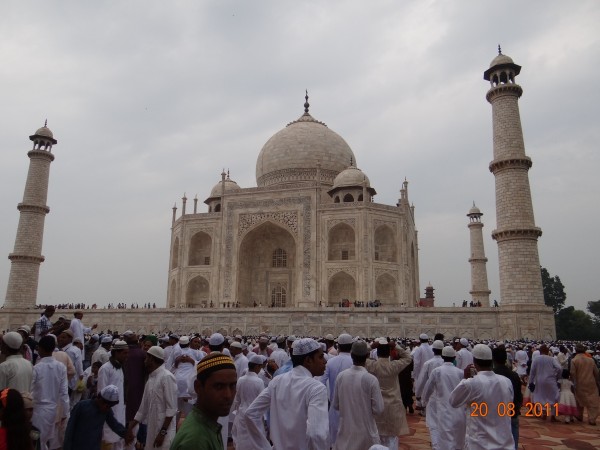 In a move which is bound to generate controversy, the Archaeological Survey of India (ASI) has banned offering of namaz at the mosque in the Taj Mahal complex on all days barring Friday.
While the ASI claims they are following a July ruling of the Supreme Court, which had backed the local administration's order of banning non-residents from offering Friday prayers in the mosque because of security threat to Taj Mahal, the president of Taj Mahal Intezamia Committee, Syed Ibrahim Hussain Zaidi, said the decision was because of the anti-Muslim mindset of the government in the Centre as well Uttar Pradesh.
"Muslims have been offering prayer at the mosque for many years now and there is no reason to stop it. I will raise the issue ASI officials," Zaidi said.
As per practice before the ban, local residents were allowed to pray between noon and 2 pm on Friday when the Taj Mahal complex is closed without paying any entry fee while on other days any visitor who had bought a ticket could offer namaz.
But on Sunday, without prior information, ASI locked the 'cazu tank', where people clean themselves before offering prayers, leaving many visitors disappointed.
Imam Syed Sadiq Ali and the staff have been asked to come only on Fridays. "My family has been leading prayers at the mosque for the last many decades and the ASI order is very perplexing," Ali said.
"We are following Supreme Court orders according to which namaz can only be offered by local residents and only on Fridays," said Vasant Swarankar, superintending archaeologist, ASI (Agra circle).
In January, Agra additional district magistrate (city) had banned non-Agra residents from offering Friday prayers at the mosque following complaints that non-Indians, mainly Bangladeshis, were entering the Taj Mahal complex on the pretext of offering prayers.