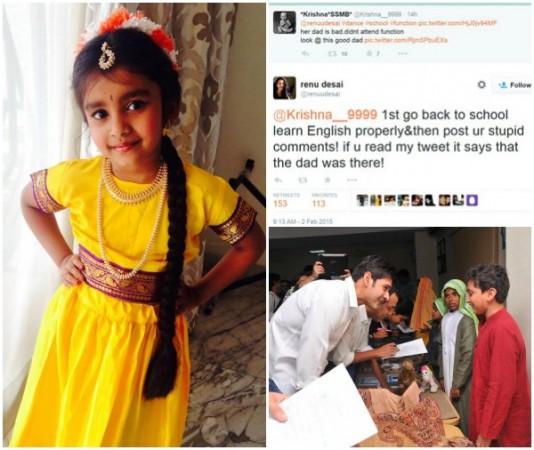 Pawan Kalyan's ex-wife Renu Desai has recently blasted a fan of Superstar Mahesh Babu after he made abusive comments against the former. The ashamed fan has deleted his Twitter account after the incident.
Renu Desai posted a photo of her daughter Aadhya on her Twitter page, after the latter performed a dance at a concert in her school. On 1 February, she tweeted, "Completely speechless to see my little baby all grown up. So overwhelmed with emotion☺️ #dance #school #function."
Pawan Kalyan also attended the concert in Aadhya's school. Renu Desai added, "I felt that it was a more emotional moment for a father to see his baby girl dancing on stage than me as a mother :)) #aadya #school concert."
A Mahesh Babu fan with the Twitter handle @Krishna__9999 replied to her first tweet. He posted a link to Mahesh Babu's photo featuring him with his son Gautham at a function his school and wrote, "Her dad is bad didn't attend function look @ this good dad."
Irked Renu Desai replied him, "@Krishna__9999 1st go back to school learn English properly&then post ur stupid comments! if u read my tweet it says that the dad was there!" she added, "If your English is bad, it is not my problem! Get my tweets read by a person who knows proper English& then tweet ur stupid comments!"
Following Renu Desai's outburst, many fans of Pawan Kalyan also blasted Mahesh Babu's fan named Krishna, who ended up deleting his Twitter account. When clicked on Twitter handle @Krishna__9999, it leads to the message to a blank page that reads, "Sorry, that page doesn't exist!"
Later, Renu Desai requested to fans not to post disrespectful comment against anyone. She tweeted, "@NTR_jako pls stop posting anything that is disrespectful to anyone. Have respect for every human being. It's the 1st thing that I believe in!" she added, "Have u guys once seen or heard any actor fighting or giving bad words to each other privately or publicly? No naa, then why do u all fight?"