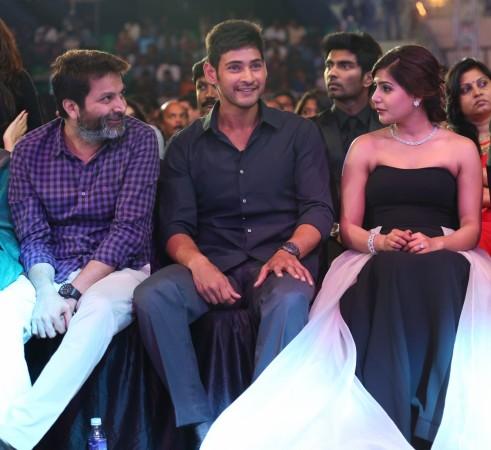 Tollywood Superstar Mahesh Babu and Golden girl Samantha, who patched up at an award ceremony in 2014, are reportedly teaming up again to appear in their third movie together.
Reports suggest that the flick will be directed by ace director Trivikram Srinivas. K Radhakrishna, who has earlier produced Trivikram's "Julai", is likely to produce this too. Radhakrishna, Trivikram and Samantha are currently working together in Allu Arjun's next untitled film.
Both the actors have reportedly agreed to work together with Trivikram Srinivas, in his forthcoming project. "The two have become a successful pair; thus, the producer roped Sam in for the third time to female lead opposite Mahesh," Deccan Chronicle quotes a source as saying.
Mahesh Babu and Samantha were earlier paired up in the movies "Dookudu" and "Seethamma Vakitlo Sirimalle Chettu", which were blockbusters hits at the box office. The pair has become one of the most popular on-screen couple in recent years as their chemistry has managed to impress the audience.
But, their relationship had gone sour after Samantha made a negative comment about a poster of Mahesh Babu's "1: Nenokkadine" in 2013. The upset fans of Prince had launched a campaign against the actress and her ex-boyfriend Siddhartha, who had supported her comment on the social networking site Twitter.
The campaign launched by Mahesh Babu fans, which had been identified with the tag #GetLostSamanthaAndSiddharth, had left her and her former beau red-faced. Samantha and Siddharth, who felt insulted by the campaign, had stopped interacting with their followers on Twitter for some days.
However, Mahesh Babu and Samantha patched up at the 61 Idea South Filmfare Awards held in Chennai on 13 July, 2014. Samantha, who seemed to have forgotten the bitter experience, walked up to him and wished him. They were seen laughing and chatting with each other as they sat side by side at the event.
It should be mentioned here that Samantha interviewed Mahesh Babu and Trivikram Srinivas for a special edition of "Memu Saitam". On this occasion, the actress was seen trying to defend herself, when the actor asked her about her Twitter comment on the poster of his 2014 film "1: Nenokkadine".