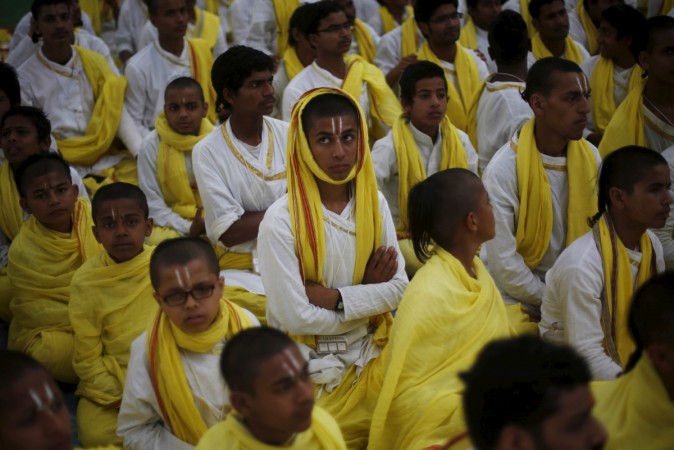 After Baba Ramdev's Patanjali, Sri Sri Ayurveda (SSA), whose products are promoted by Sri Sri Ravi Shankar's Art of Living, is all set to add to the woes of established brands like Hindustan Unilever (HUL), Dabur and Proctor & Gamble.
SSA products could be sharing space with those of the three brands at retail chain Future Group in India, according to a PTI report.
"If the customers want it then why not? We are open to the thought," Kishore Biyani, founder and chief executive of Future Group, told the agency when asked about the SSA products being sold through Future Group stores.
Sri Sri Ravi Shankar's Art of Living has reportedly more than 350 million followers worldwide, giving it a huge advantage.
SSA, established in 2003, sells effective herbs, personal care products and food and nutritional products, besides spices, soap, fragrances, candle lights and apparels through its online portal www.sattvastore.com.
The trend has prompted analyst Edelweiss Securities Limited to say that SSA could be a "Patanjali in the making" in its FMCG sector update released recently.
"SSA is riding on brand equity of its founder Sri Sri Ravi Shankar/Art of Living and has a huge captive base (370mn followers across the world)...SSA, though currently lagging Patanjali, has the right ingredients to help grow the ayurveda space, posing competition to other consumer peers," Edelweiss said in the note.
SSA plans to expand its existing range of personal care products, dietary supplements and food products to many more categories, the firm said.
Re-establishing ayurveda among Indian consumers
Edelweiss says that Patanjali has successfully re-established ayurveda among Indian consumers, forcing the FMCG veterans such as HUL and Dabur to follow suit.
"Patanjali has been a runaway success and has played a pivotal role in re-establishing importance of ayurveda in the minds of Indian consumers," it said, and added: "Patanjali's success is attributable to its strong innovation and new products pipeline, pricing discounts to peers (15%-30%), ayurvedic and natural propositions, impactful advertising."
While suggesting that SSA will take time to catch up with Baba Ramdev's Patanjali, Edelweiss said it is poised to benefit from the impact created by Patanjali for ayurveda and naturals among Indian consumers, though it could lose out on the pricing front.
"Most of SSA's products are priced at par with other FMCG brands and thus are at a premium to Patanjali," Edelweiss said.
SSA could still ride the ayurveda awareness wave to drive its growth, the firm added.
Earlier, Biyani had said that the Haridwar-based Patanjali Group was growing at a faster clip and was projected to reach Rs 1,000 crore within 12 to 18 months.
Ravi Shankar's network to aid growth
As for Sri Sri Ayurveda (SSA), Ravi Shankar's following among politicians and film celebs is also an advantage, making him its best brand ambassador.
"SSA has the ability to create a powerful FMCG brand equity led by a strong and powerful leader, Sri Sri Ravi Shankar. He is a well-known personality with huge popularity not only with the youth but also eminent political and film personalities," the firm said.
Patanjali brushes HUL, Colgate-Palmolive aside
In a related note on Monday, Kotak Institutional Equities said that Patanjali is likely to dent the market share of both HUL and Colgate-Palmolive in the dental care segment with its Dant Kanti brand.
"We expect Patanjali to garner 500 bps cumulative incremental share over FY2016-18E driven by distribution expansion and higher A&P spends; bulk of this share gain is likely to come from CLGT and HUVR (we model 200 bps share loss for both) in our view due to lack of a strong relevant herbals/naturals portfolio," it said.
The toothpaste segment was estimated at Rs 8,300 crore in calendar year 2015, up from Rs 7,500 crore in the previous year, said Kotak, citing a study by Euromonitor.
Patanjali has been occupying the top slot among popular Indian brands for many weeks in a row, ahead of established ones like Cadbury, Colgate, Fair & Lovely, Dove and Britannia.