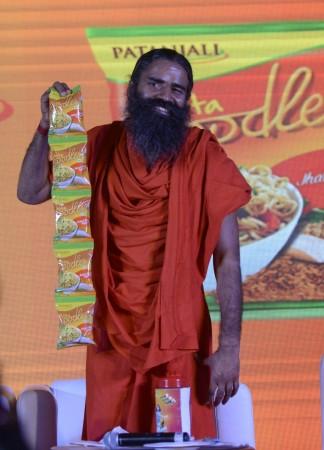 Baba Ramdev's Patanjali Group, the new kid on the FMCG block in India, is increasingly challenging established players like Hindustan Unilever (HUL) and Dabur India.
With its formidable range – toothpastes, noodles, rice, chyawanprash, personal care and Ayurveda products – Patanjali products are making steady inroads into the FMCG space, even as HUL is facing sluggish growth and margins, as reflected in its third quarter results, when volumes grew by just 6% and net profit declined 22%.
The Haridwar-based Patanjali Group is growing at a faster clip and is projected to reach Rs 1,000 crore within 12 to 18 months, said Kishore Biyani, CEO of Future Group that retails Patanjali products through its Big Bazaar outlets, once logistics are fully in place, given that demand outstrips supply.
"The demand is much more than the supply of Patanjali products, so supply also needs to be fixed up. However, once everything is fixed up, we can achieve Rs 70-80 crore a month probably in the next 12 months time," Biyani told business news channel CNBC-TV18.
"We have an understanding that we want to touch close to Rs 1,000 crore by next year," he added.
Currently, sales of Patanjali products hover around Rs 30 crore every month. Patanjali was ranked as one of the top 10 brands in India during the second week of 2016 by television audience research firm BARC India.
The increasing popularity of Ayurveda and naturals is prompting Dabur India also to strengthen its existing range of products like chyawanprash, which contributes 40% to its sales and expand with new offerings like post-natal health tonic dashmularishta and menstrual pain relief tonic ashokarishta, Ramarao Dhamija, Dabur India category head of mother and child care, had earlier told The Times of India.
HUL also wants to jump on to the bandwagon, according to its CEO, Sanjeev Mehta. The Indian arm of Anglo-Dutch conglomerate Unilever is planning to bring its Ayush brand back, since Ayurveda and naturals are back in vogue, Mehta told CNBC-TV18.
HUL reported a modest growth of 2.7% growth in revenues at Rs 7,981 crore and 22% decline in net profit at Rs 971 crore for the third quarter ended 31 December, 2015, as compared to the corresponding period last fiscal.
Dabur India will be declaring its third quarter results on 28 January.