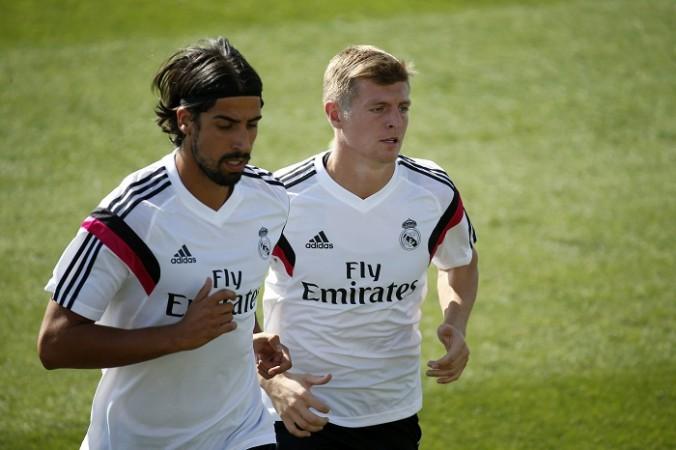 Arsenal have received a huge fillip in their pursuit of Sami Khedira, with Spanish journalist Guillem Balague suggesting the Germany international is unlikely to sign a new contract with Real Madrid.
The Gunners have been heavily linked with a move for Khedira for a while now, with Arsene Wenger thought to be keen to bring in the all-action player to beef up his midfield.
After failing to land Khedira in the summer, Wenger was thought to be keen on a move in the January transfer window, or even in the summer when the midfielder's contract with Real Madrid will come to an end, meaning he can switch to a new club on a free transfer.
Khedira has, so far, stalled on signing a new deal with the European champions, and according to Balague, the German is unlikely to agree to terms with Real despite a contract offer from the Spanish giants.
"The story from the club is that they're offering him a new contract," Balague told Sky Sports News.
"He still hasn't said yes to that which would obviously mean he'd go for free at the end of the season.
"[Real Madrid manager Carlo] Ancelotti wants him to stay until the end of the season and the plan of the club remains to keep him until then, even with the possibility of him leaving for free.
"They will try to convince him to stay, but it looks very unlikely."
It remains to be seen if the likes of Arsenal, Chelsea and even Manchester United wait until the end of the season to seal the deal for Khedira.
The 27-year-old will be able to speak to other clubs from January if he does not sign a new contract with Real Madrid, and the midfielder should have the pick of a pretty tempting bunch, with Bundesliga champions Bayern Munich also thought to be interested.
One club unlikely to make a move for Khedira, despite being linked of late, though, are AC Milan, with vice-president Adriano Galliani admitting the player would be too expensive for the Serie A heavyweights.
"Khedira is 'a player that would be fine for Milan, but there is a problem – he earns too much.
"Khedira is an important player, but he might renew his contract with Real Madrid, and in any case, has would prove too expensive."