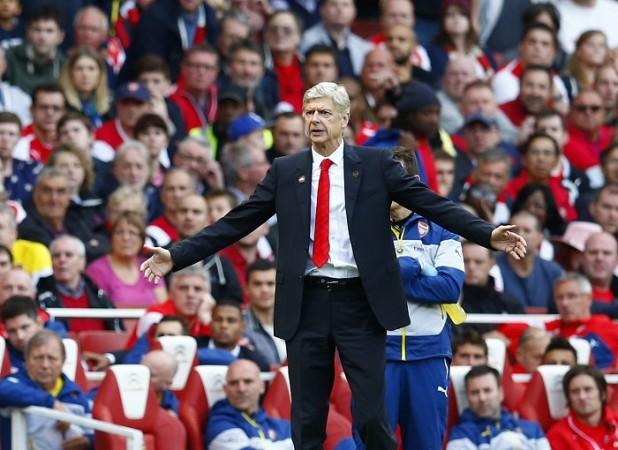 The one thing most frustrating about Arsene Wenger are his answers after a defeat or a disappointing result for Arsenal – it is pretty much always the same, with spirit and desire included in the argument, while there will be a little bit of luck, or the lack of it, thrown into the mix as well.
During the post-match interview taken by BBC reporter Jacqui Oatley, Wenger, who was obviously not in the greatest of moods after seeing his team labour to a 2-2 draw at home against Hull City, lost his cool a little – not as much as that infamous press conference from last season, but not too far behind it either.
Wenger's responses to some poignant questions from the reporter was branded "patronising and arrogant," by several members on Twitter, with former Tottenham striker and current Match of the Day Hosts Gary Lineker branding Wenger's answers as "arrogant, defensive and patronising."
"Must say, I thought Arsene Wenger was arrogant, defensive and patronising to Jacqui Oatley in the face of excellent and fair questioning," Lineker wrote on his Twitter account.
The questioning began on a simple note, before it took a twist, with Wenger eventually ending up contradicting himself a little, as he lost his cool.
Oatley asked Wenger: "So just be clear why you felt you didn't win the game bearing in mind you said you dominated it?"
To which Wenger gave a typically "around the world, without too much emphasis on the obvious" answer.
"You look at the numbers, look at the number of shots on goal, how many times did they come in our half and you will see that they defended well and [we] made it difficult for ourselves by giving them a second goal and we were a bit unlucky as well and the usual football game where one team defends and one attacks and the team who takes the initiative doesn't always win, especially when you are one goal behind it gives them morale to defend well and they did it well."
From there it got more and more heated, with Oatley not easing up on Wenger one bit.
"You feel you didn't win the game because they didn't come out of their half enough?" Oatley asked, to which Wenger replied: "I didn't say that, you don't listen really well to me."
Oatley's next question was: "Two wins from eight matches in the Premier League this season, who or what do you think is to blame for that?"
Wenger: "Who is to blame? Why do you always want to blame people? We try our best and we can only look at ourselves and nobody else, I don't understand the question.
"You don't listen really well to me."
Then the BBC reporter asked the question that most Arsenal fans have wanted to know ever since the summer transfer window shut.
"A lot of the Arsenal supporters are looking at the fact there wasn't another centre-half or a defensive central midfielder signed in the summer, can you understand why they say that?"
Wenger sarcastic reply was: "I can understand everything."
Oatley pressed ahead, asking, "Are they correct in saying that's the reason why things are not going well at the moment?"
Wenger: "Look you have to respect everybody's opinion. You have been at the game today I don't know why you come up with such a question when you have seen the game today. I don't think our problem was there today."
Oatley: "You said there was problem in defence with conceding too many goals."
Wenger: "Yes, but some other teams have bought many defenders and concede goals as well, I thinks it is more a problem of concentration than of quality."
Oatley also took to Twitter later to express her views on the interview, saying: "That's the most adversarial interview I've done with Mr Wenger. Direct questions but I felt they were fair."
Watch the video of the interview below.