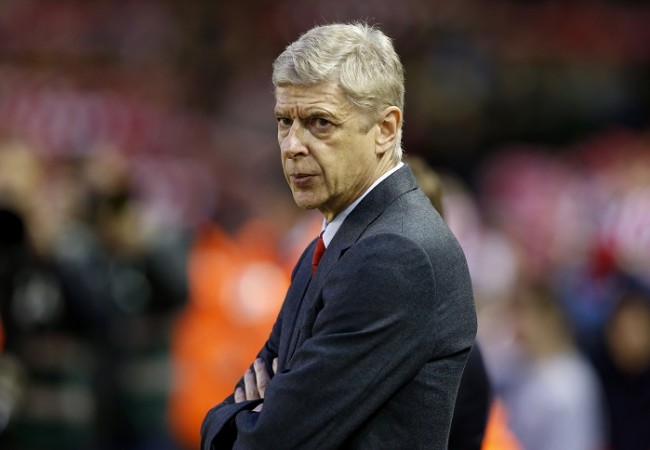 Arsenal boss Arsene Wenger admits that his side will only be in the Premier League title race if Chelsea slip up in their remaining fixtures.
After their convincing 4-1 win over Liverpool on Saturday, the Gunners have temporarily climbed to second place in the table as Manchester City are only scheduled to play their fixture against Crystal Palace on Monday.
However, they are still seven points behind Premier League leaders Chelsea, who also recorded a 2-1 win against Stoke City on Saturday.
And Wenger admits that his side will only be able to complete for the title if Chelsea, who have an extra game in hand, slip up in their remaining league fixtures.
"We look up but we look even more game by game," Wenger told Sky Sports. "We need 100% results, and the only way to get that is to focus on the next one with everyone together. We need other teams to have a weakness.
The Gunners, who are currently in the form of their lives, recording seven straight wins the Premier League, were excellent against Liverpool as they scored three goals in the span of eight minutes through Hector Bellerin, Mesut Ozil and Alexis Sanchez towards the end of the first half, before Olivier Giroud added a fourth in stoppage time.
Jordan Henderson's second half penalty was the only stain on the Gunners perfect evening on Saturday, and Wenger says that he was delighted with his side's performance against the Reds.
"Today was a great day. It was a very important game," added Wenger."You always have imperfections in any game but I feel we started with a great intensity, which is what we wanted to put them under pressure."
"We created some early chances after that and then when we relieved the pressure they had one or two chances. Liverpool are a good side going forwards and they always look dangerous."
The Frenchman says that he was especially pleased with his side's killer instinct on Saturday.
"We had a killing instinct and took advantage of our strong moments in the first half. In fairness, we played at a good pace and had some good combination game in the final third."
"We had many chances on the break that I've seen again but in the end it was 4-1 which is very convincing in a very important game."