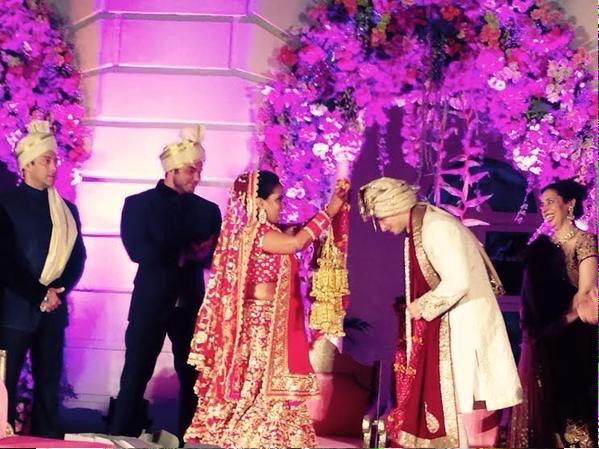 Salman Khan's sister Arpita Khan married her beau Aayush Sharma in a grand wedding ceremony in Falaknuma Palace, Hyderabad on Tuesday 18 November.
The royal mansion, which was Arpita's dream wedding destination, was specially decorated with exotic flowers and lights.
Apart from the grand décor, Arpita also had a special wedding cake that the newly married couple cut post the wedding rituals. Prepared by popular celebrity chef Pooja Dhingra of Le 15 Patisserie, the cake apparently weighed around 150 kilograms and it took three long days to complete.
The cake was a collective effort of seven bakers, who worked on very minute detailing to make it look every bit of a royal wedding cake. The lavish cake had both Arpita and Aayush's initials inscribed in it too.
Dhingra posted some pictures of the wedding cake in her Instagram page
The entire Khan family shelled out a huge amount of money for the grand wedding. While it is known that Salman had booked the entire hotel for Tuesday and Wednesday for ₹2 Crore, there were also reports that all the 60 rooms of the hotel were also occupied by the family.
Several guests showed up at the lavish wedding ceremony. Salman's ex-girlfriend Katrina Kaif, Aamir Khan, Kiran Rao, Karan Johar, Kabir Khan and wife Mini Mathur, Mika Singh, Yo Yo Honey Singh, Sajid Nadiadwala and family joined the Khans in their happy occasion on Tuesday.
The wedding celebrations began at 4 pm on Tuesday evening and will conclude on Wednesday with a farewell lunch.