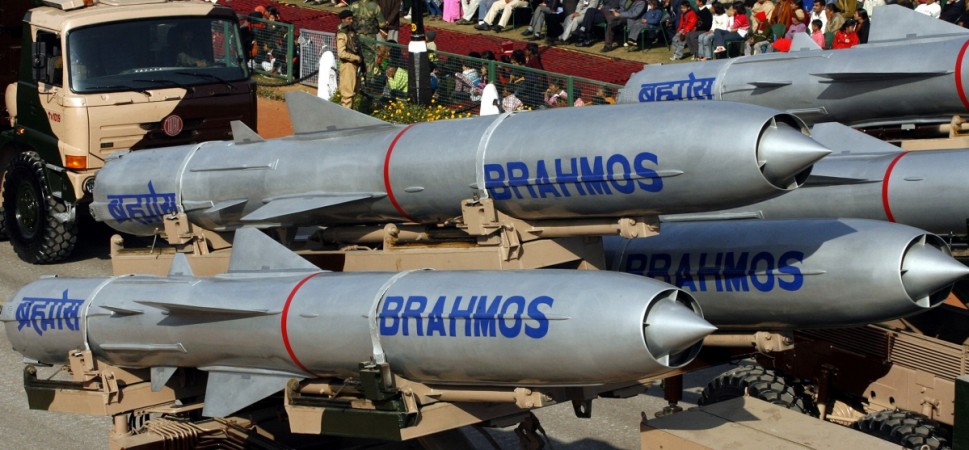 The government on Wednesday gave approval for the Army to induct an advanced version of the BrahMos supersonic missile, which would act as a deterrent against China along the North-East border. This will be the fourth BrahMos missile regiment, at a cost of Rs. 4,300 crore.
The regiment consists of about 100 missiles, five mobile autonomous launchers, a mobile command post, and other hardware and software. The advanced version of the missiles, also known as the 'steep-dive attack cruise' missile, can hit an enemy target within the shadow ranges of the mountains, Press Trust of India reported.
In the last nine years, the Army has inducted three regiments of the BrahMos missiles, which are equipped with the Block-III version of the missile. The latest contract will take the overall orders placed for BrahMos missile to about Rs. 31,000 crore.
"This BrahMos variant can take a steep dive up to 75 degrees. Defence scientists are already working on achieving a 90-degree steep-dive capability, which in the future can lead to acquiring an aircraft carrier-killing capability," a source was quoted as saying by the Economic Times.
In June, a Sukoi-Su30MKI jet of the Indian Air Force flew with the BrahMos supersonic missile on an experimental flight for the first time. The IAF is the only air force in the world which possesses a supersonic missile system.
The BrahMos supersonic cruise missile has a range of over 290 kilometres. The missile can fly at 2.8 times the speed of sound. It also carries conventional warheads of up to 300 kg.
The BrahMos cruise missile is the result of a joint venture, BrahMos Aerospace Private Limited, between the Defence Research and Development Organisation in India and NPO Mashinostroeyenia from Russia.
India and Russia might hold two launches of the BrahMos cruise missiles from a Sukhoi Su-30 fighter jet against sea and ground targets at the end of this year, Alexander Leonov, the CEO of Russia's Research and Production Association of Machine-Building, was quoted as saying by TASS on Tuesday.
Variants of the BrahMos missile have already been inducted into the Navy and the Army.