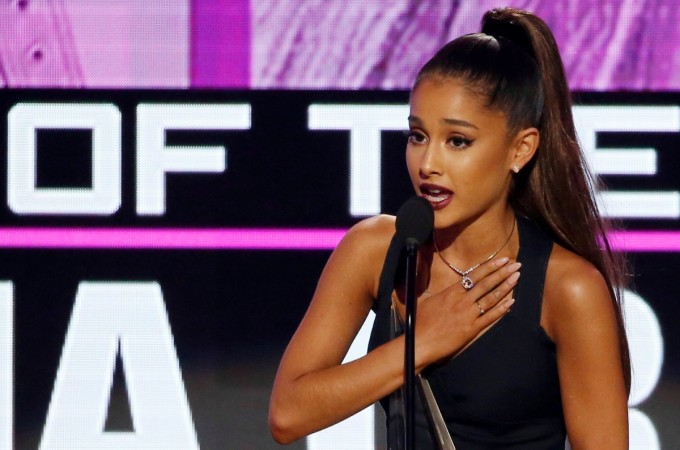 Singer Ariana Grande is still mourning her ex Mac Miller three months after his death due to an overdose. Grande shared a heartfelt tribute to the rapper on social media on the occasion of Thanksgiving Day.
Ariana had spent last Thanksgiving with Mac Miller as the two were dating at the time. So this holiday, the singer shared a screen grab of her Facebook post with Mac from Thanksgiving 2017 and captioned it, "You're v missed." In the pic, the then-couple posed with their faces close together and wished fans a Happy Thanksgiving with the help of a Snapchat filter.
Ariana who was engaged to Pete Davidson at the time of Miller's death has been struggling with the loss of her former boyfriend. She has paid tribute to Miller a number of times on social media and even split from Davidson. As part of her grieving process, Grande has given Miller a shout out in her latest song, 'Thank U, Next', which is an ode to all her previous loves.
Although, Ariana released the song shortly following her split from former fiancé, Pete Davidson, in the song, she sings, "Wish I could say thank you to Malcolm, cause he was an angel."
A week after the 26-year-old's passing; Ariana posted a message along with a video of Miller. "I adored you from the day I met you when I was nineteen, and I always will," Grande wrote. "I can't believe you aren't here anymore. I really can't wrap my head around it."
"We talked about this. So many times. I'm so mad, I'm so sad i don't know what to do. You were my dearest friend. I'm so sorry I couldn't fix or take your pain away. I really wanted to. The kindest, sweetest soul with demons he never deserved. I hope you're okay now. Rest."
Ariana Grande and Mac Miller began dating in 2016 and broke up in May 2018. Shortly after the couple parted ways, Grande shared a statement calling the relationship "toxic." "I have cared for him and tried to support his sobriety & prayed for his balance for years (and always will of course)," she wrote. "But shaming/blaming women for a man's inability to keep his shit together is a very major problem."