The Holiday season means every urban legend and myth coming to life – at least with people's obsession to tell and listen to stories about them. But 2017 seems to be disappointing in that category as latest studies put a rather disappointing end to one of the biggest mysteries ever -- the Yeti.
The Yeti or Bigfoot might just be really huge bears, studies concluded.
Also read: Terrifying, Creepy Stories that Are Actually True
Often known as the "abominable snowman" in stories told to scare kids or for amusement, the Yeti's stories have been told and spread for long without any concrete proof except certain vague ones. But now, finally, biologist Charlotte Lindqvist who researches bear evolution at the University at Buffalo has debunked the story.
Charlotte analysed DNA specimens from these claimed "yetis" found on Himalayan trails for her paper published in the British science journal, and for her research, the nine samples came from "yeti" bones and fur.
Extreme, intensive tests later, Charlotte revealed that these were all actually bear features except for the "yeti" tooth, which – as disappointing as it sounds – belonged to a dog, as revealed by the Washington Post.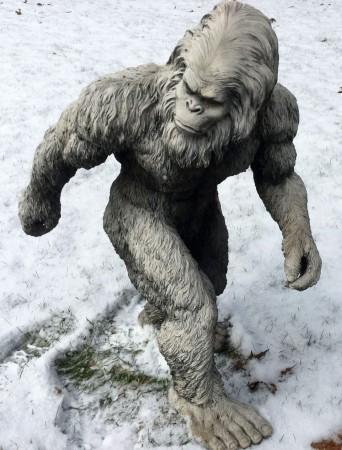 "All the samples that were supposed to be yetis matched brown and black bears that are living in the region," Lindqvist told The Washington Post. Back in 2014, Lindqvist had done a research on an ancient polar bear that might have exposed the myth about Yetis.
The British film company Icon Films had approached Lindqvist soon after her paper was published, as she had previously worked with them on an Animal Planet special called "Yeti or Not."
Upon getting access to biological samples that believed to have come from yetis, Lindqvist and her team also collected various bear samples from zoos and national parks and museums too. Sequencing mitochondrial DNA from all the samples, it was revealed that the specimens were actually from local bears.
It was also revealed that Himalayan brown bears had become genetically distinct from other brown bears due to their split, thousands of years ago.
And as disappointing as Lindqvist shares her team was upon realizing they were just bear samples, she also believes that her findings would hardly restrain the legends from still being in popular demand.
"I am sure, though, that the legend and the myth will live on," she told the Guardian. "You can never for sure prove that there is nothing out there."
On the other hand, people in the cryptozoology community think that the "yetis are bears" theory is just trivializing things and it's far more complicated than just that.
Loren Coleman, who runs the International Cryptozoology Museum in Portland, Maine, isn't ready to accept the results because the samples supplied by Icon Films were already declared to belong to bears in "Yeti or Not."
Coleman mentioned the cryptozoologists' idea of considering the yeti to be a species of bears, but also stresses on evidence that suggest the existence of a smaller, more humanlike creature.
In an interview with HuffPost, he shared that, "Until we discover a yeti, we'll never have a sample of yeti DNA, so the only matches that come up will be from samples of bear."