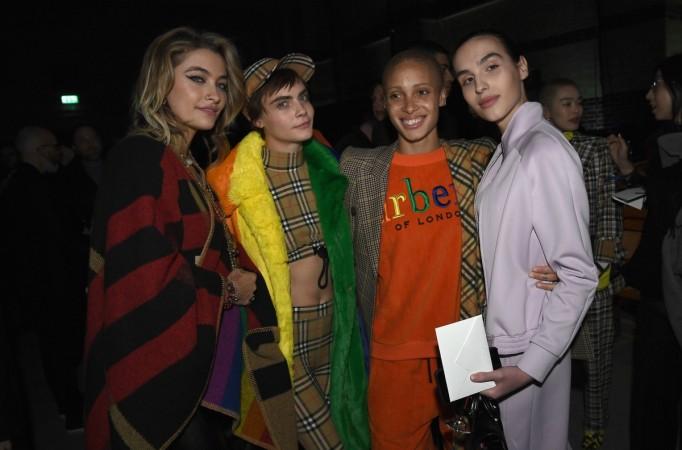 It was one steamy evening for the late Michael Jackson's daughter Paris Jackson and British actress Cara Delevingne. The two ladies were spotted sharing a steamy kiss in Los Angeles this week. Cameras caught their passionate action.
As reported by E! News, the 19-year-old actress has been spotted spending time with the 25-year-old model over this week. And recently, they joined Jackson's godfather Macaulay Culkin and his partner Brenda Song on Thursday, where onlookers witnessed the actresses' sizzling affair unfold.
"Cara was sitting on Paris' lap and they were both smoking outside the restaurant as they waited for their table. They took turns stroking each other's backs. When they got up, they linked arms and their hands brushed one another. They slow danced for a few minutes," an eyewitness told the publication.
The onlooker added, "Cara was teaching Paris some steps and they were having a lot of fun. At the end of their dance, they kissed. First Paris kissed Cara's cheek and then they kissed on the lips. Cara stood behind Paris and put her arms around her waist and whispered in her ear. They gave each other a long hug and Paris rested her head on Cara's shoulder. She looked like she didn't want to let go."
Aww! Isn't that simply romantic! But before you jump to conclusions, the two stars are keeping their relationship are resorting to "we are friends," tag, well at least that's what sources are claiming. But judging by the pictures, the two look madly in love!
The rumored couple have been posting pictures online, teasing their relationship. Check them out here:
Gossip website Perez Hilton reveals that the two women met at the MTV Movie & TV Awards in Los Angeles last May. Delevingne previously dated St. Vincent and Jackson was in a relationship until last year.
While Delevingne has clarified that she is a bisexual, Paris hasn't given any clarification on her sexuality.