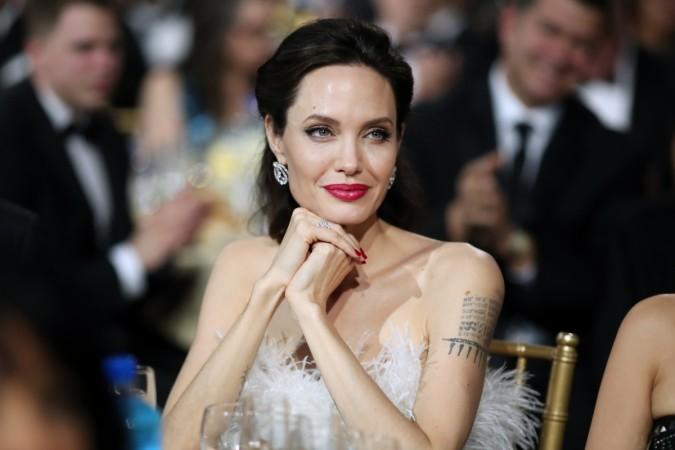 A little birdie seems to be spreading the news about Angelina Jolie's fourth wedding. According to reports published by Life & Style magazine, Brad Pitt's estranged wife is preparing to walk down the aisle soon and welcome husband number four into her life.
After her split from Pitt in 2016, Jolie's dating life has been in the spotlight. Soon after she parted ways from the Allied actor, First They Killed My Father director was rumored to be dating a businessman. But there has no confirmation or has the actress denied these claims.
While it is not clear if Life & Style is referring to the same "businessman" in the report, the publication reported that the actress is dating this mystery man for more than a year now and may soon walk down the aisle, Gossip Cop reports.
A source of magazine claims that the actress is in a rush to finalize the divorce so that she could marry her fiancé. "Angie's so in love that she was the one to propose," the insider said. "Angelina can't wait to wed and says she's never been this in sync with someone before. Her goal is to ultimately settle in London with him and the kids. She's sure husband No. 4 will be her final husband," the informant claims.
Jolie is expected to start filming for Maleficent 2 in London next month. According to the grapevine, her "fiancé" lives in the UK. This schedule will supposedly give the actress to plan her wedding number 4.
What about the kids? The source claims the six children will be "heavily involved" in the ceremony. Every child will take up a role in the reception.
It is obvious that Jolie would not want her recent former husband to be a part of the wedding. "He will probably be left off the wedding guest list, but Brad's told pals that Angie deserves happiness even if it's not with him. He's just thrilled about her getting ready to sign off on the divorce so that he can get on with his life as well," the insider claims.
Apparently, George Clooney's wife Amal introduced Jolie to her "British husband-to-be" in 2017.
Meanwhile Gossip Cop says that these claims are not true. The website's sources have called these claims fake.
Even People magazine's sources said that the actress is currently not dating anyone. "She isn't dating anyone and won't be for a very long time. She is focused on her children and their needs," a source shared.
Over the past one year, the actress has been linked to many people, including Johnny Depp and Cambodian lyricist and filmmaker PraCh Ly.