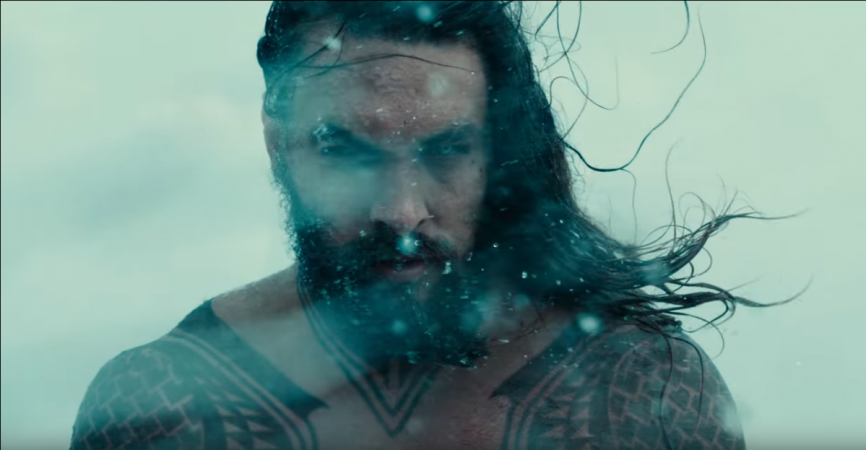 Oh my God! Jason Momoa's Aquaman teaser trailer has just been leaked online and we are gasping for air as we watch the Aqua God's journey through the lands and seas. Jason Momoa's Aquaman teaser trailer that has been leaked sees the actor transform from a young teenage boy to the King of Atlantis, revealing exclusive details about the film.
Also Read: Aquaman Jason Momoa's tattoo proves that he was DESTINED to play the DC superhero [PHOTOS]
The video only shows Momoa is action. The remaining cast, which includes Amber Heard, Nicole Kidman and more, is yet to be previewed and it appears that most of Momoa's part in the video has been shot right after the filming of Justice League.
Watch the teaser trailer here:
Only recently, Justice League released their official first trailer featuring Wonder Woman, Batman, Aquaman, The Flash and Cyborg joining forces. Even in the trailer, Momoa shined the brightest with his rugged look and oh-so-hot physic. We get a better look at the actor in this leaked teaser.
Aquaman synopsis reads:
Aquaman (Momoa) is the King of the Seven Seas. Leader of Atlantis, he is caught between the surface world constantly ravaging the seas and Atlanteans looking to lash out in revolt. Aquaman is committed to protecting the entire world. This film is part of WB's shared DC cinematic universe.
RELEASE DATE

December 21, 2018

DIRECTOR

James Wan

WRITTEN BY

Will Beall

CAST

Amber Heard, Jason Momoa, Patrick Wilson, Temuera Morrison, Willem Dafoe, Yahya Abdul-Mateen II