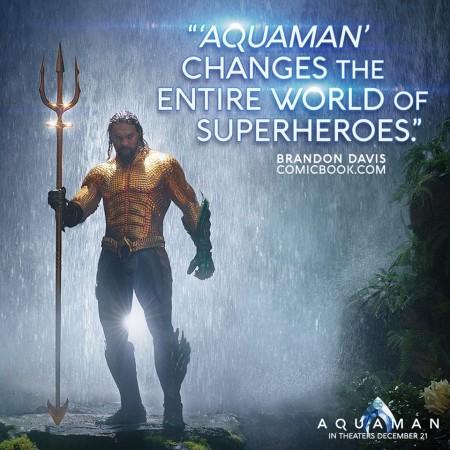 The DC Extended Universe is finally getting what they always hoped for — a superhero that can impress audience and critics, but at the same time, manages to win box-office collection. With the recently released Aquaman, DC Extended Universe has finally achieved what they wanted.
Jason Momoa's superhero movie has earned over $700 million and as per experts, it may touch $1 billion mark.
As of January 1, Aquaman has won the charts in North America on New Year's Eve, earning over $10 million. Christmas Eve and New Year's Eve has actually worked in Aquaman's favour as the movie goes past $750 million at the global box office. The Atlantean adventurer movie has earned more than $560 million from the international market only and if this Jason Momoa's film maintains the same pace, then by the end of January, the movie may cross $1 billion marks at the box office.
If Aquaman manages to cross $800 or $900 million marks in the weeks to come, then it will edge out several films from DC Extended Universe only. At the same time, if it manages to get close to a billion dollars at the box-office, then it will cross DC's previous movies like Dark Knight and The Dark Knight Rises.
As per Forbes, Aquaman may also pass films like Justice League, Logan, and Doctor Strange by coming Friday.
Even if Game of Thrones star's superhero movie manages to cross $1 billion, it will still be short by a lot of margin from Marvel movies like Iron Man 3, Black Panther, and Avengers: Infinity War.
Meanwhile, Aquaman is getting praises from all around the world and from the different universe as well. Marvel Comics editor-in-chief CB Cebulski took to Twitter to share his views on a DC movie.
As per the celebrated editor, he enjoyed the film as it took him back to his childhood. Check out his tweet:
Just back from Aquaman. Really enjoyed it! Such a fun flick, the spectacle of it all made me feel like a kid in the theater. Can't wait to take my nephew & niece. Big congrats to @geoffjohns @JimLee @creepypuppet on this superhero splash!

— C.B. Cebulski (@CBCebulski) December 28, 2018
Directed by James Wan, Aquaman is an action-packed wholesome entertainment film. The character was previously introduced in Justice League but despite that, the latest portrayal of Arthur Curry is loved by many as it serves its origin story and as earlier films have been any indication, fans simply love the origin story.