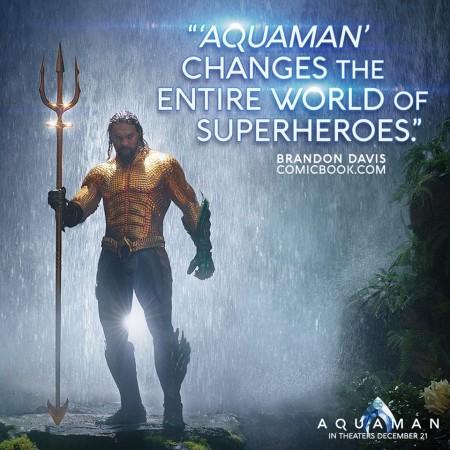 Game of Thrones' star Jason Momoa is having a blast this Christmas. His DC film Aquaman has surpassed the box-office collection of films like Mary Poppins Returns and Bumblebee, and crossed $500 million marks at the worldwide box office.
Many experts are even predicting that in weeks to come, Aquaman will also cross the overall box-office collection of Batman v Superman: Dawn of Justice, which earned more than $800 million during its run. But the question remains -- will it ever cross the worldwide collection of Marvel's Black Panther or Avengers: Infinity War?
It was earlier speculated that Nicole Kidman and Jason Momoa starrer Aquaman will earn over $120 million at the box office in just first five days. As per Box Office Mojo, in the first week, the film managed to gross $72 million at the domestic market and $94 million at the worldwide level.
The film cost around $200 million to make and as of Christmas 2018, the superhero movie has grossed over $100 million in the United States and Canada and over $414 million in other territories. Within a few days from its release, Aquaman has already crossed half a billion mark.
As earlier reported, the film has done exceptionally good in foreign countries, mainly in China where, in the first week alone, the film has grossed over $232 million. Apart from China, countries like the Netherlands and Mexico has also fetched some good bucks.
During the first few days only, Aquaman has outrun the previous DC movies by a lot of margins. Previous films in DC Extended Universe failed to impress the audience and critics but did earn good money. Man of Steel managed to earn $377 million, Wonder Woman made a little more than $400 million, whereas Suicide Squad earned $422 million, and Ben Affleck starrer Justice League made $429 million.
Box office experts are predicting that after the Christmas holiday, Aquaman will get a boost at the box office and will carry on till the New Year's. Although, there are several films that are releasing in the days to come which may slow down the earning for Aquaman.
At the same time, many are sure that the movie won't be able to surpass the worldwide collection of Black Panther and Avengers: Infinity War. Both the MCU movies managed to break all box-office records by earning over $1 billion and $2 billion during their theatrical run.
Directed by James Wan, Aquaman has offered the fans what they all were waiting for from a long time — a good story, stunning visuals, and a narrative which holds on till the very end. The film has some amazing sequences which prove that Jason Momoa's Aquaman is going to stand in the market like Arthur Curry's trident.