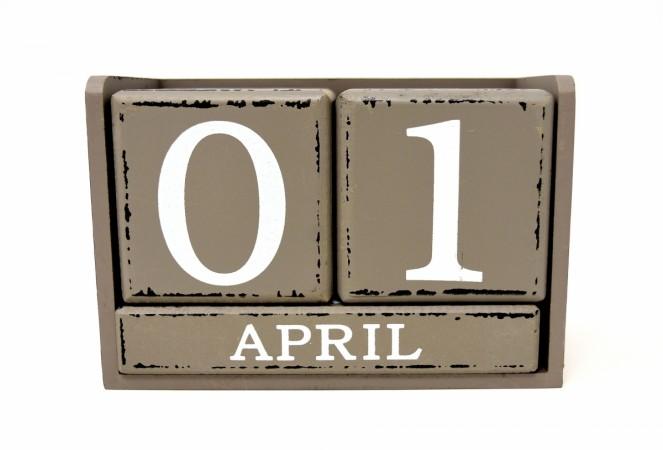 It is that time of the year when you could say just about anything and get away claiming you were playing a prank. It is time for April Fool's Day. Falling every year on April 1, the occasion plays the best excuse for hopeless lovers to confess their love and claim it was a prank if they get turned down, friends can abuse the hell out of their buddies under the mask of a joke and an opportunity to bring out that hidden child in you.
While it is a fact that it falls on the first day of the fourth month of the year, not many might know how the prank day came into existence.
A popular tale claims that the earliest instance of April 1 doubling into All Fool's Day took place in Geoffrey Chaucer's The Canterbury Tales. Several reports suggest that the New Year's Day was celebrated in April for the longest of time.
In 1582, the Gregorian Calendar was introduced and it announced that January 1 would be the New Year's Day. But many refused to change it and went on to celebrate New Year's Day in April. Those who changed according to the calendar began mocking those who continued to celebrate New Year's Day in April and began sending them on "fool's errands." Thus came April Fool's Day practice into existence.
Keeping the tradition going, people across the world spend days planning the perfect prank on their friends and colleagues. (Psst, are you looking for pranks to pull on your colleagues, check the quickest and funniest prank ideas here.)
But if you just want cheap thrills and make your friends a fool via Whatsapp and other messaging apps, here's are a few messages, jokes and text pranks you could send them:
The day has finally come when we celebrate your ambitions, your achievements, your personality, thoughts and opinions. It's finally April Fool's Day. Remember, it comes just once a year so use the day wisely.
This is MAGIC.

Press down 6times,

You can See your PHOTO

1

2

3

4

5

6

Congrats! You are the First

April Fool of the year
Let's see how smart your read this line, loof m'I
Fact 1: You cannot touch your lower lip with your tongue. Fact 2: After reading this, 99/100 fools would try it.
Thinking of you on this day, because it's your day!
Q: What will be the girl's name born on 1st of APRIL?

Guess,

Guess,

Guess...

A: FOOLAN DEVI!
A : Your Attractive

B : Your the Best

C : Your Cute

D : Your Dear to Me

E : Your Excellent

F : Your Funny

G : Your Good-Looking

H : He He He........

I : I'm

J : JOKING

Happy April Fool Day!
Earth may stop rotating;

Birds may stop flying;

Candles may stop melting;

And hearts may stop beating.

But your brain will never start working. 'April Fool Day' was meant just for people like you!
"Mix a little foolishness with your prudence: It's good to be silly at the right moment."

- Horace
"April fool, n. The March fool with another month added to his folly." - Ambrose Bierce, The Devi's Dictionary
"Here cometh April again, and as far as I can see the world hath more fools in it than ever." - Charles Lamb
This is the day upon which we are reminded of what we are on the other three hundred and sixty four days.

– Mark Twain