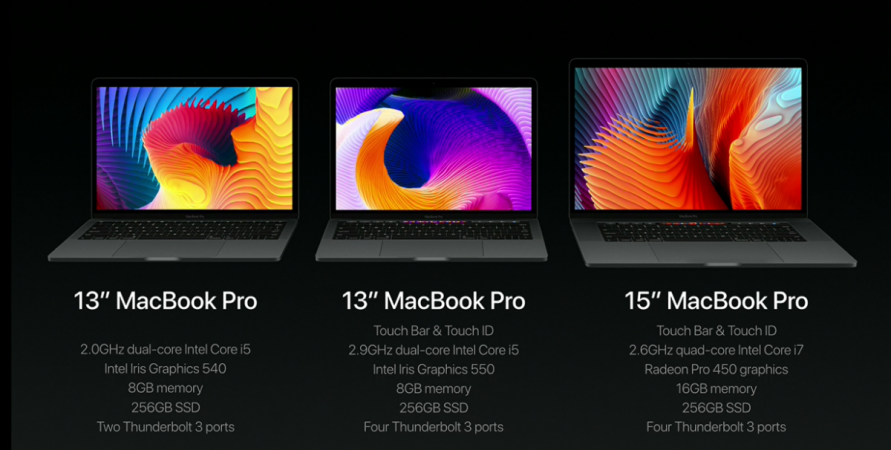 Apple, which is celebrating the 25th anniversary of the company's first notebook series, launched a new line of sleek MacBook Pro series in Cupertino on Thursday.
The highlight of Apple's new 2016-based MacBook Pro series is that it is the company's first notebook series to boast Touch ID-based fingerprint authentication system and new LED-backlit Touch Bar, which completely replaces all the top-row function keys with customisable LED display. It can also show Tabs and Favourites in Safari, enable easy access to emoji in Messages, provide a simple way to edit images or scrub through videos in Photos.
Also read: Apple iPhone 8 series key features leaked; iPhone 10th anniversary likely to be epic
It comes with Intel Core i5/i7, 8GB/16GB LPDDR3 RAM, 256GB/512GB internal storage, 720HD front camera and large battery that can keep the laptop running for 30 days under standby mode.
"With the groundbreaking new Touch Bar, the convenience of Touch ID, the best Mac display ever, powerful performance, improved audio, blazing fast storage and Thunderbolt 3 connectivity in our thinnest and lightest pro notebook yet, the new MacBook Pro is the most advanced notebook ever made," Philip Schiller, Apple's senior vice president of worldwide marketing, said in a statement.
Also read: Apple iOS 10.1 update erases health app data from iPhones, iPads; is there a way to restore it?
Apple MacBook Pro price details:
The new Apple MacBook Pro is offered in two screen sizes — as 13.3-inch and 15-inch models — with prices ranging between Rs 1,29,900 and Rs 2,41,900. The release details are still under wraps.
Watch this space for more updates.
Key specifications of Apple's new MacBook Pro series (2016):
Models
Apple MacBook Pro 13-inch
Apple MacBook Pro 15-inch
Display
13.3-inch (diagonal) LED-backlit display with IPS technology with 2560x1600 native resolutionSupported scaled resolutions:

1680x1050
1440x900
1024x640

Pixel density: 227 ppi (pixels per inch)

500 nits brightness
Wide colour (P3)

15.4-inch (diagonal) LED-backlit display with IPS technology with 2880x1800 native resolutionSupported scaled resolutions:

1920x1200
1680x1050
1280x800
1024x640

Pixel density: 220 ppi (pixels per inch)

500 nits brightness
Wide colour (P3)

OS
macOS Sierra
macOS Sierra
Processor
Model 1 series with Touch Bar:

2.9GHz dual-core Intel Core i5, Turbo Boost up to 3.3GHz, with 4MB shared L3 cache

Model 2 series without Touch Bar:

2.0GHz dual-core Intel Core i5, Turbo Boost up to 3.1GHz, with 4MB shared L3 cache

Model 1:

2.7GHz quad-core Intel Core i7, Turbo Boost up to 3.6GHz, with 8MB shared L3 cache

Model 2:

2.6GHz dual-core Intel Core i5, Turbo Boost up to 3.5GHz, with 6MB shared L3 cache

GPU
Model 1:

Model 2:

Model 1:

Radeon Pro 455 with 2GB of GDDR5 memory and automatic graphics switching + Intel HD Graphics 530

Model 2:

Radeon Pro 450 with 2GB of GDDR5 memory and automatic graphics switching + Intel HD Graphics 530

RAM
Model 1:

Model 2:

2133MHz 16GB LPDDR3 RAM
Storage
Mode1:

256GB or 512GB - PCIe-based onboard SSD

Model 2:

256GB PCIe-based onboard SSD

Model 1: 512GB - PCIe-based onboard SSDModel 2: 256GB - PCIe-based onboard SSD
Camera
720p FaceTime HD camera
720p FaceTime HD camera
Battery
Model 1:

Built-in 49.2-watt-hour lithium-polymer battery

Model 2:

Built-in 54.5-watt-hour lithium-polymer battery

Battery life:

Up to 10 hours iTunes movie playback
Up to 30 days of standby time

Charger:

Built-in 76.0-watt-hour lithium-polymer batteryBattery life:

Up to 10 hours wireless web
Up to 10 hours iTunes movie playback
Up to 30 days standby time

Charger:

Ports
Model 1:

Four Thunderbolt 3 (USB-C) ports
with support for:

Charging
DisplayPort
Thunderbolt (up to 40 Gbps)
USB 3.1 Gen 2 (up to 10 Gbps)

Model 2:

Two Thunderbolt 3 (USB-C) ports
with support for:

Charging
DisplayPort
Thunderbolt (up to 40 Gbps)
USB 3.1 Gen 2 (up to 10 Gbps)

Four Thunderbolt 3 (USB-C) ports with support for:

Charging
DisplayPort
Thunderbolt (up to 40 Gbps)
USB 3.1 Gen 2 (up to 10 Gbps)

Keyboard and Touch Pad
Model 1:

64 (US) or 65 (ISO) keys including 4 arrow keys
Touch Bar with integrated Touch ID sensor
Ambient light sensor
Force Touch trackpad for precise cursor control and pressure-sensing capabilities; enables Force clicks, accelerators, pressure-sensitive drawing and Multi-Touch gestures

Model 2:

78 (US) or 79 (ISO) keys including 12 function keys and 4 arrow keys
Ambient light sensor
Force Touch trackpad for precise cursor control and pressure-sensing capabilities; enables Force clicks, accelerators, pressure-sensitive drawing and Multi-Touch gestures

64 (US) or 65 (ISO) keys including 4 arrow keys
Touch Bar with integrated Touch ID sensor
Ambient light sensor
Force Touch trackpad for precise cursor control and pressure-sensing capabilities;
enables Force clicks, accelerators, pressure-sensitive drawing and Multi-Touch gestures

Add-ons
Wi-Fi (802.11ac Wi-Fi wireless networking; IEEE 802.11a/b/g/n compatible), Bluetooth 4.2 wireless technologyModel 1:

Stereo speakers with high
dynamic range
Three microphones
3.5mm headphone jack

Model 2:

Stereo speakers with high
dynamic range
Two microphones
3.5mm headphone jack

Wi-Fi(802.11ac Wi-Fi wireless networking; IEEE 802.11a/b/g/n compatible, Bluetooth 4.2 wireless technology, Stereo speakers with high
dynamic range, Three microphones, 3.5mm headphone jack
Dimensions
304.1 x 212.4 x 14.9 mm
349.3 x 240.7 x 15.5 mm
Weight
1.37kg
1.83kg
Colours
Silver and Space Grey
Silver and Space Grey
Price
Touch Bar with integrated Touch ID sensor

Model 1A (512GB): Rs. 1,72,900
Model 1B (256GB): Rs. 1,55,900

Without Touch Bar

Model 1 (512GB): Rs. 2,41,900
Model 2 (256GB): Rs. 2,05,900