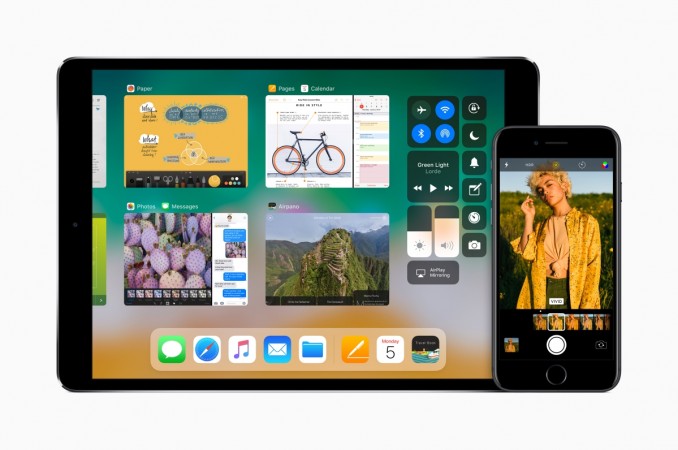 Every year, Apple brings radical UI changes to its iOS mobile software to add refreshment to old iPhones and iPads as the company unveils new ones. This year was no different.
With the launch of iPhone 8 series and iPhone X, Apple rolled out the iOS 11 to all the iPhone and iPad users around the world. As in the case of any new software, a few glitches and bugs aggravated many users, but Apple found a way to fix it with follow-up software updates.
Now, the iOS 11 is more stable, allowing Apple to focus on other things. And it seems like the first thing on the agenda is to clarify doubts about the Wi-Fi and Bluetooth toggles in the new software. In iOS 11.2 beta 3, Apple is adding a prompt that informs users why turning off Wi-Fi and Bluetooth via Control Center doesn't fully disable them, according to Apple Insider.
This was one of the first findings of the iOS 11 that created panic among its users. Apple added three states to Wi-Fi and Bluetooth toggles – connected, disconnected and disabled. But the Control Center showed just the connected and disconnected states, while the disabled status was hidden away inside the settings.
But turning off Wi-Fi and/or Bluetooth from the Control Center doesn't really disable the features. Any whitelisted features and devices utilising Wi-Fi and Bluetooth on your iPhone or iPad will continue to work regardless. While it has since been established and understood by users how the new Bluetooth and Wi-Fi toggles work, Apple hasn't been upfront about how the change works.
But it will soon change that with iOS 11.2, as the third beta version of the software shows the following messages whenever users try to disable Wi-Fi or Bluetooth from the Control Center.
If you disable Wi-Fi, the following text will appear:
"Disconnecting Nearby Wi-Fi Until Tomorrow. The current Wi-Fi network and others nearby will be disconnected until tomorrow. Wi-Fi will continue to be available for AirDrop, Personal Hotspot, and location accuracy."
For Bluetooth, this is the text:
"Disconnecting Bluetooth Accessories Until Tomorrow. Currently Connected accessories will be disconnected and other accessories will not connect. Bluetooth will continue to be available for Apple Watch, Apple Pencil, Personal Hotspot, and Handoff."
Besides this, iOS 11.2 beta fixes a Calculator animation issue, which was reported in iOS 11. Apple is also introducing Apple Pay Cash right into the Messages app in the iPhones for quick and easy transfers.