It's been a little over three years since Apple Music went live and within a short span of time, it has grown into a multi-billion dollar business for the Cupertino-based company. In the recently announced June quarterly report, Apple registered record-breaking financial results.
Though the company did not break up the numbers, Apple Music and iOS App Store were two big contributors. Apple Music service has gained more than 50 million subscribers spread across 120 nations. It has a huge catalogue of 45 million plus songs with a myriad of genres of global appeal and expectedly, Apple Music is closing in on the market leader Spotify. With the recent plan of Apple to acquire popular song-recognition app-maker Shazam for $400 million, it has the potential to dethrone the latter in near future.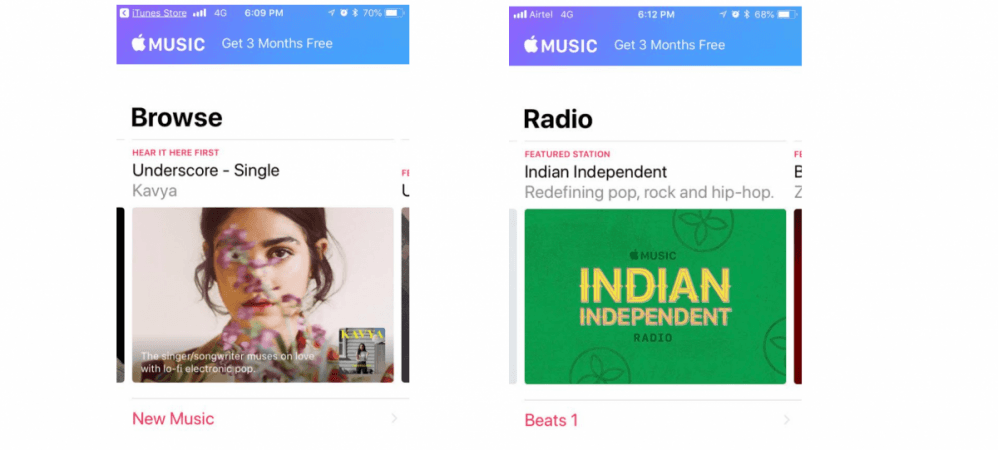 The company has also improved Apple Music with value-added features such as exclusive albums, artists, Editors' Picks, For You, Browse and Radio and this has helped immensely to find traction among consumers and also retain them. To further increase the consumer base, Apple is bringing in new features to Apple Music with the iOS 12 update coming this fall.
It includes Artists Pages, which lets musicians control both their image (and their career) and how they present their Music Art and songs to their fans. Top 100, that allows users listen to top trending songs of the world. And the Friends Mix in the 'For You' section, will allow the users easily discover old and new songs listened by their friend and offer personalised playlist.
In India, Apple has envisioned to make inroads, not only in terms of offering personalised regional content to consumers but also help local artists get a level playing field and offer launch pad to showcase their talent to the whole world.
International Business Times India Edition had the opportunity to interact with up and coming local indie artists, who have benefitted greatly from Apple Music.

Ankur Tewari, known for his works in Slumdog Millionaire and Raat Gayi, Baat Gayi?, remembered his early days of hopping from one music house to other and getting rejected without trials in Mumbai, the abode of Hindi film industry Bollywood. Though eventually, he made it big with his sheer talent, he was appreciative of how Apple Music is changing the paradigm of the local music industry for good.
"Since I've been in the industry for so long, I appreciate the personal touch and the human curation that Apple Music brings, rather than solely relying on algorithms. My music ended up trending in Bulgaria, opening up a whole new audience! One of my songs was even featured in between Ed Sheeran and Justin Bieber on the charts, and I never thought it would happen," Tewari said.
Delhi-based Raman Negi, the lead vocalist of The Local Train band, too shared a similar opinion. "Apple Music charts/playlists give the same space to big Indian established artists as they do for upcoming artists. And it's not only about Bollywood. They give focus upcoming artists across different genres. Apple Music has some really interesting features such as song lyrics, browse - which makes the discovery of new songs so easy. Whats more, it's a clean user interface and ad-free, so no distraction," Negi added.

Multi-talented singer-songwriter, Kavya Tehran launched her new single Underscore exclusively on Apple Music. Subscribers can check out the music at "Hear it here. First" section.
"Apple Music is very approachable, both from a listener and an artist. It's a big deal for an independent artist to get on a platform such as this as it truly spotlights the artist and markets the artist really well, placing us on the right charts, in the right genre. For me, the best part is that there is no creative burden. I can be myself and Apple Music will support me through my journey and retain my identity as an artist," Tehran said.

Sutej Singh, music composer and singer, who specialises in niche Progressive Rock thanked Apple Music for offering the platform to showcase his talent to the global audience.
"I wanted my music to be available in a place where it's easily accessible to listeners, and on a platform that believes in us. With Apple Music, the biggest benefit was to see my name on a global platform. As artists, we feel respected. Here, our music speaks the loudest," Delhi-based multifaceted music composer-cum-writer and singer Dhruv Visvanath added.
Apple Music offers 14 localised radio stations in local languages such as Tamil, Telugu, Punjabi and Bengali stations and stations offering an array of music genres like the 90s Bollywood Radio, Telugu Romance and Hindustani Classical and more
Besides the Hear it Here. First. (HIHF) feature, Apple Music offers 'New Artist Spotlight', dedicated to launching at least one new artist every month with an exclusive release. Examples include Prabh Deep, MADM, Sutej Singh among others.
Apple also collaborates with the Radio City to host Bollywood Chart Show in India called 'Apple Music Top 25' with Radio City on every Saturday. They play top 25 most streamed Bollywood songs on Apple Music and also feature local artists' interviews.
In 2017 October, Apple Music had announced an association with AR Rahman's music school KMMC to set up a Mac OS Lab at Chennai and also at soon-to-be-opened Mumbai campus. The Mac Lab will help students learn how to create music using Logic Pro X, Apple's professional music creation app for the Mac. The company is also contributing to 10 full-time scholarships for students from underprivileged backgrounds.
For those unaware, individual membership for Apple Music costs Rs 120 per month and for Family Plan, it sets you back by Rs 190 per month in India.
Apple is offering a special discount for students. Eligible consumers can avail Apple Music for Rs 60 per month, that's Rs 60 less than the standard subscription (Rs 120). The 50 per cent discount is the same for other regions as well. However, the eligibility will be decided by Apple's co-partner, UNiDAYS, which verifies if the student is enrolled in a university or not.
Apple Music is available on both iOS App Store and Google Play for Android phones. Consumers will get a three-month free subscription, beyond which they have to pay to continue with the service.
Stay tuned. Follow us @IBTimesIN_Tech on Twitter and on Google News for the latest updates on Apple.