Apple Maps has been coming pre-loaded with iPhones for several years in India. It just used to find a location, but never offered us to turn-by-turn navigation. Now, the Cupertino-based company without making any official announced has silently turned on the much-needed feature.
Apple Maps made its debut in September 2012. Though the initial reaction from the public to the Google Maps-rival service was poor, it has redeemed its reputation with each passing year and has become go-to Maps service for foreigners in the world's third biggest (by geographical area) country China.
Now, many iPhone users in India will be able to fully utilise the Apple Maps in Metros at least. Considering the fact it has been more than two years since the company set up the Apple Maps development centre in Hyderabad, it was about time for Apple Maps to offer navigation service in India.
I tested the feature in Bengaluru and it works flawlessly. Another interesting thing I got to know that Apple Maps, like Google Maps, integrates cab-hailing apps. It shows the nearest cab to the user's location with time details, route fares in addition type of modes (micro, mini, Prime Sedan and more on Ola app).
But not sure if the same can be said about the feature working in rural areas in India. I tried getting directions for Nandi Hills from Central Business District (CBD). Once I pressed the 'Go' button, it started directing me with voice-based navigation assistant. However, I am not fully sure if Apple Maps works across India including rural sectors, as Nandi Hills is just 62 km from central Bengaluru. International Business Times India Edition is awaiting official confirmation from Apple India.
Here's how to get started with turn-by-turn navigation feature on Apple Maps: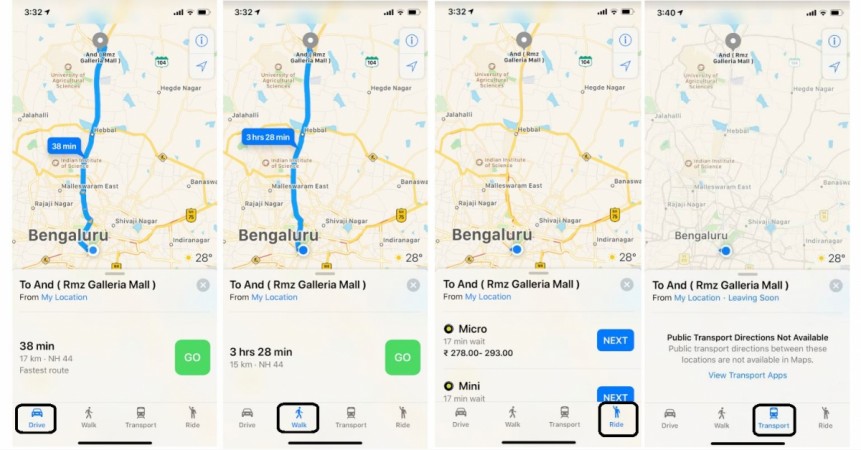 Step 1: Open Apple Maps, type the destination on the search bar. Tap on the location listed in the search result
Step 2: Once you select the desired location, press >> Direction (blue-hued) and then choose the transport mode. If you are using a personal vehicle, tap the Drive mode (with Car icon) or if you choose to travel by foot, select 'Walk'. There are two more options Transport and Ride, the former does not work, while the latter will offer options to hail cabs on Ola, Uber cab or any taxi app you have installed on the iPhone.
Step 3: Once you select either Drive or Walk mode, press the green-hued 'Go' button. It will start guiding you for every turn until you reach the destination.
Though a bit late from Apple, it's better than nothing right. Apple iPhone users can expect the company to improve the Maps service by integrating local mass transportation services such as Metro, suburban trains and buses initially in the cities in the coming months.
Stay tuned. Follow us @IBTimesIN_Tech on Twitter and on Google News for the latest updates on Apple Maps.