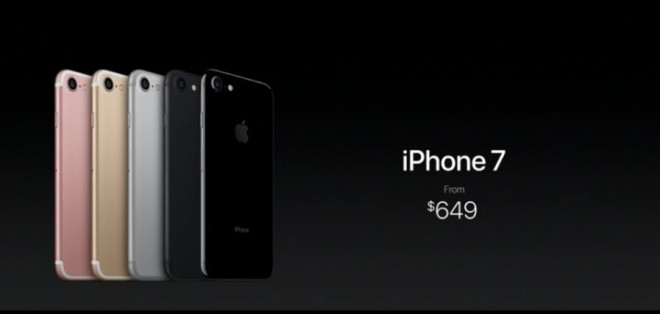 Cupertino-based tech giant Apple has temporarily suspended the online reservation of iPhone 7 series in select markets.
Owing to the shortage of units, Apple has stopped the reservation and pickup service in the U.S., the U.K. and Italy, and has urged customers to directly go to authorised brick-and-mortar stores to get their new iPhone 7 series devices on Sept. 16 or pre-book it through network carriers.
"We're not taking any more reservations to buy iPhone in store right now. You can visit an Apple Store starting at 8:00 a.m. on Friday, September 16, or shop online now. Reservations will reopen at 8:00 a.m. on September 17," Apple said on the official store webpage.
For the uninitiated, the reservation and pick up service is different from pre-order system. If buyers choose the former, they do not have to stand in queue and can go straight to their pre-selected store and get the device on the launch date (Sept 16). The process takes just 30 minutes.
Those who pre-book the device will receive it at their doorstep on a later date, and the delivery may even get delayed if the stocks are limited. The latest reports say that the jet black iPhone 7 series' delivery has been already pushed to late October.
Also read: Complete details on release and price details of iPhone 7 series
Which markets will be a part of the first wave of iPhone 7 release?
Apple's new iPhone 7 series will be first made available in Australia, Austria, Belgium, Canada, China, Denmark, Finland, France, Germany, Hong Kong, Ireland, Italy, Japan, Luxembourg, Mexico, Netherlands, New Zealand, Norway, Portugal, Puerto Rico, Singapore, Spain, Sweden, Switzerland, Taiwan, UAE, the U.K., U.S. Virgin Islands and the U.S. Sept. 16 onwards.
Also read: Water-resistant Apple iPhone 7 series not covered under liquid damage warranty; what's protected under IP67 rating
Buyers in Andorra, Bahrain, Bosnia and Herzegovina, Bulgaria, Croatia, Cyprus, Czech Republic, Estonia, Greece, Greenland, Guernsey, Hungary, Iceland, Isle of Man, Jersey, Kosovo, Kuwait, Latvia, Liechtenstein, Lithuania, Maldives, Malta, Monaco, Poland, Qatar, Romania, Russia, Saudi Arabia, Slovakia and Slovenian markets can get their hands on the iPhone 7 series on Sept. 23.
When will it hit stores in India?
Apple's new iPhone 7 series price starts at Rs. 60,000 and is confirmed to be released on Oct. 7.
Watch this space for more updates.
Read more: Apple iPhone 7 v iPhone 6S series: What's changed?
Key specifications of Apple iPhone 7 and 7 Plus:
Models
Apple iPhone 7
Apple iPhone 7 Plus
Display
4.7-inch (diagonal) LED‑backlit widescreen with Retina HD (1334x750p) resolution

Multi-Touch display with IPS technology
Pixel density: 326 ppi
1400:1 contrast ratio (typical)

Wide colour display (P3)
625 cd/m2 max brightness (typical)
Dual-domain pixels for wide viewing angles
Fingerprint-resistant oleophobic coating
Support for display of multiple languages and characters simultaneously
Display Zoom
Reachability

5.5-inch (diagonal) LED‑backlit widescreen with Retina HD (1080x1920p) resolution

Multi-Touch display with IPS technology
Pixel density: 401 ppi
1300:1 contrast ratio (typical)

Wide colour display (P3)
625 cd/m2 max brightness (typical)
Dual-domain pixels for wide viewing angles
Fingerprint-resistant oleophobic coating
Support for display of multiple languages and characters simultaneously
Display Zoom
Reachability

OS
Apple iOS v10
Apple iOS v10
Processor
64-bit architure-based A10 Fusion chip with M10 motion coprocessor(It has a 64-bit 4-core. Dual-core processors which is 40 percent faster than the A9. Other two cores are "high efficiency" and use 1/5 power to save batter life of the device and graphics processor is 50 percent faster than the A9 CPU)
64-bit architure-based A10 Fusion chip with M10 motion coprocessor(It has a 64-bit 4-core. Dual-core processors which is 40 percent faster than the A9. Other two cores are "high efficiency" and use 1/5 power to save batter life of the device and graphics processor is 50 percent faster than the A9 CPU)
Storage
32GB/128GB/256GB
32GB/128GB/256GB
Camera

Main: 12MP camera with f/1.8 aperture, digital zoon (up to 5x), Optical image Stabilisation, six-element lens, Quad-LED True Tone flash, Panorama (up to 63 megapixels), Sapphire crystal lens cover, Backside illumination sensor, Hybrid IR filter, Autofocus with Focus Pixels, Tap to focus with Focus Pixels, Live Photos with stabilization, Wide colour capture for photos and Live Photos, Improved local tone mapping, Body and face detection, Exposure control, Noise reduction, Auto HDR for photos, Auto image stabilization, Burst mode, Timer mode, Photo geo-tagging
Front: 7-megapixel photos, 1080p HD video recording, Retina Flash, Æ'/2.2 aperture, Wide colour capture for photos and Live Photos, Auto HDR, Backside illumination sensor, Body and face detection, Auto image stabilization, Burst mode, Exposure control, Timer mode

Main: 12MP camera (Æ'/1.8 aperture) with wide-angle field of view + telephoto camera (Æ'/1.9 aperture), Optical zoom at 2x, digital zoom up to 10x, Optical image Stabilisation, six-element lens, Quad-LED True Tone flash, Panorama (up to 63 megapixels), Sapphire crystal lens cover, Backside illumination sensor, Hybrid IR filter, Autofocus with Focus Pixels, Tap to focus with Focus Pixels, Live Photos with stabilization, Wide colour capture for photos and Live Photos, Improved local tone mapping, Body and face detection, Exposure control, Noise reduction, Auto HDR for photos, Auto image stabilization, Burst mode, Timer mode, Photo geo-tagging
Front: 7-megapixel photos, 1080p HD video recording, Retina Flash, Æ'/2.2 aperture, Wide colour capture for photos and Live Photos, Auto HDR, Backside illumination sensor, Body and face detection, Auto image stabilization, Burst mode, Exposure control, Timer mode

Additional camera features

4K video recording at 30 fps
1080p HD video recording at 30 fps or 60 fps
720p HD video recording at 30 fps
Optical image stabilisation for video
Optical zoom at 2x; 6x digital zoom (iPhone 7 Plus only)
Quad-LED True Tone flash
Slow-motion video support for 1080p at 120 fps and 720p at 240 fps
Time-lapse video with stabilisation
Cinematic video stabilisation(1080p and 720p)
Continuous autofocus video
Body and face detection
Noise reduction
Take 8-megapixel still photos while recording 4K video
Playback zoom
Video geo-tagging

4K video recording at 30 fps
1080p HD video recording at 30 fps or 60 fps
720p HD video recording at 30 fps
Optical image stabilisation for video
Optical zoom at 2x; 6x digital zoom (iPhone 7 Plus only)
Quad-LED True Tone flash
Slow-motion video support for 1080p at 120 fps and 720p at 240 fps
Time-lapse video with stabilisation
Cinematic video stabilisation (1080p and 720p)
Continuous autofocus video
Body and face detection
Noise reduction
Take 8-megapixel still photos while recording 4K video
Playback zoom
Video geo-tagging

Battery
Talk time (wireless):

Standby:

Internet use:

Up to 12 hours on 3G
Up to 14 hours on Wi-Fi

Wireless video playback:

Wireless audio playback:

Talk time (wireless):

Standby:

Internet use:

Up to 13 hours on 3G
Up to 15 hours on Wi-Fi

Wireless video playback:

Wireless audio playback:

Network
4G-LTE
4G-LTE
Add-ons
Wi-Fi (802.11a/b/g/n/ac with MIMO), Bluetooth 4.2 wireless technology
NFC, Near Field Communication, Assisted GPS and GLONASS, Digital compass
Wi-Fi (802.11a/b/g/n/ac with MIMO), Bluetooth 4.2 wireless technology
NFC, Near Field Communication, Assisted GPS and GLONASS, Digital compass
Dimensions
138.3 x 67.1 x 7.1 mm
158.2 x 77.9 x 7.3 mm
Weight
138g
188g
Colours
Jet Black (exclusive to 12GB/256GB), Black, Gold, Rose Gold and Silver
Jet Black (exclusive to 12GB/256GB), Black, Gold, Rose Gold and Silver
Price (in United States of America)

32GB: $32.41 (locked: per month) /$649 (unlocked)
128GB: $36.58 (locked: per month) /$749 (unlocked)
256GB: $40.75 (locked: per month)/$849 (unlocked)

32GB: $37.41 (locked: per month)/$769 (unlocked)
128GB: $41.58 (locked: per month)/$869 (unlocked)
256GB: $45.75 (locked: per month)/$969 (unlocked)