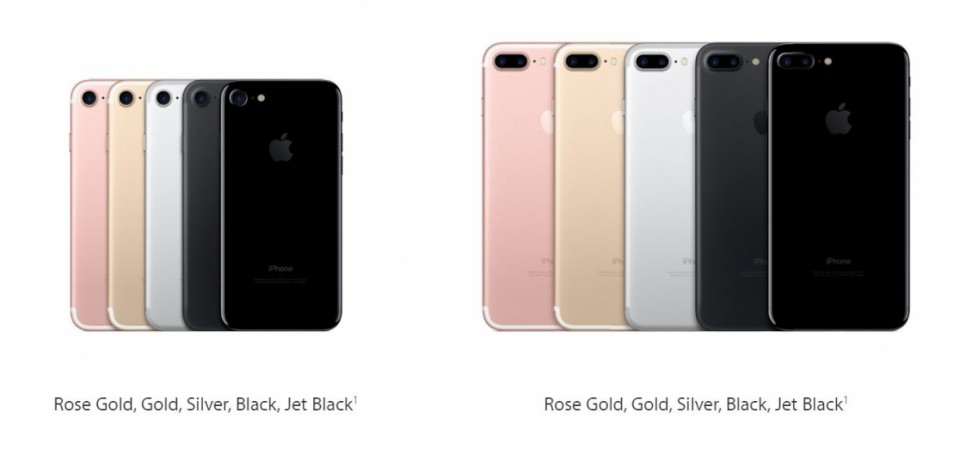 American technology giant Apple finally unveiled the new flagship iPhone 7 and iPhone 7 Plus, along with the new generation Apple Watch in San Francisco on Wednesday.
The 2016 series comes with major upgrades in terms of camera module, durability, processor and battery capacity and minor change in design language over its predecessor.
As previously reported, Apple iPhone 7 series comes with IP67 water-and-dust resistant certification under IEC (International Electrotechnical Commission) standards, which guarantees that the device is able to withstand immersion in water for up to one meter (3.3 feet) for 30 minutes.
As far as the design language is concerned, the phones feature a 4.7-inch (750×1334p) and 5.5-inch (1920x1080p) screens, respectively and come with improved Touch ID with more functional abilities.
To enhance the video viewing experience on the handsets, Apple has incorporated True Tone display feature, like the iPad Pro series.
The key changes include USB Type-C lightning port, which acts as a connector for generic earpods and charging. The 3.5mm audio jack is missing, but this alteration has been made to make space for second single-grille loud speaker to bring stereo effect.
Both the models come with enhanced 12MP camera featuring OIS (Optical Image Stabiliser), Æ'/1.8 aperture, 6-element lens and Quad-LED True Tone flash.
Apple has also included an additional tele-camera in iPhone 7 Plus to bring depth of field capability, but this feature will be introduced with a software update later this year.
In the front, the iPhone 7 series houses an improved 7MP FaceTime HD camera.
Another big change we see in the new iPhones is that they come with faster and efficient Apple A10 Fusion quad-core processor backed by M10 motion co-processor, iOS 10 and bigger storage capacities -- 32GB, 128GB and 256GB. The 16GB and 64GB variants have finally been ditched.
Apple Watch series 2:
Apple's new Watch series houses an upgraded S2 dual-core processor, which is said to be twice as fast than the predecessor. It's display has 1,000 nits, two times brighter than the first generation Watch.
It also comes with in-built GPS and water-proof certification, but it is more rugged than the iPhone 7 series. Watch series 2 users can wear them while swimming, as it can survive 50 meters underwater.
There is also separate model—Watch series 2 Nike+ -- for fitness aficionados. It is said to come with in-built GPS, more fitness tracking features, new health kit with more functions and also personalised trainer tips.
Apple also introduced the new Watch series 1 with the same S2 dual-core and GPS, but that will cost $100 lesser than the series 2.
With WatchOS 3, Apple Watch users will get many more watch-faces, new Breathe app, designed to encourage users to take a moment in their day for deep breathing exercises for relaxation and stress reduction. It also provides customised experience for wheelchair users.
Apple iPhone 7 price and release details:
Apple iPhone 7 and 7 Plus come with 32GB, 128GB and 256GB storage variants. They can be pre-ordered from Sept. 9 and are expected to hit stores in the U.S. and over 20 markets on Sept. 16. The price of the smaller 4.7-inch model starts at $649, whereas the bigger 5.5-inch model comes with a price tag of $769. They will also be available via contracts -- iPhone 7 Plus costs $38 a month, whereas iPhone 7 can be grabbed for $33 a month in the U.S. [Full price details, below]
In India, Apple iPhone 7 series price starts at Rs. 60,000 and is confirmed to hit stores on Oct. 7. Air Pods for non-iPhone 7 series devices are coming in late October for Rs 15,400 with charging case.
All iPhone 7 and iPhone 7 Plus models will include EarPods with Lightning Connector and a Lightning to 3.5 mm Headphone Jack Adapter, also sold separately for Rs. 2,500 and Rs. 900, respectively.
Apple Watch series 1 and 2 price and release details:
Apple's new Watch series 2 and the Nike+ model will cost $369 apiece, the ceramic-based Watch Edition series 2 will set you back by $1,249 and another Watch Hermès edition, exclusive to the U.S. starts at $1149.
The upgraded Watch Series 1 (with dual-core) is priced at $269.
They can be pre-ordered from Sept. 9 and are expected to hit stores in the U.S. and over 20 markets on Sept. 16. The Nike+ model will be made available in late October.
Apple Watches come in 38 mm and 42 mm sizes. Apple Watch Series 1 will be available in gold, rose gold, silver or space grey aluminium cases.
In India, Apple Watch Series 2 will be available in gold, rose gold, silver or space grey aluminium, or silver or space black stainless steel cases paired with a wide variety of bands starting at Rs. 32,900; and the new ceramic Apple Watch Edition starts at Rs. 110,900.
Both iOS 10 and WatchOS 3.0 will be released on Sept. 14.
Key specifications of Apple iPhone 7 and 7 Plus:
Models
Apple iPhone 7
Apple iPhone 7 Plus
Display
4.7-inch (diagonal) LED‑backlit widescreen with Retina HD (1334x750p) resolution

Multi-Touch display with IPS technology
Pixel density: 326 ppi
1400:1 contrast ratio (typical)

Wide colour display (P3)
625 cd/m2 max brightness (typical)
Dual-domain pixels for wide viewing angles
Fingerprint-resistant oleophobic coating
Support for display of multiple languages and characters simultaneously
Display Zoom
Reachability

5.5-inch (diagonal) LED‑backlit widescreen with Retina HD (1080x1920p) resolution

Multi-Touch display with IPS technology
Pixel density: 401 ppi
1300:1 contrast ratio (typical)

Wide colour display (P3)
625 cd/m2 max brightness (typical)
Dual-domain pixels for wide viewing angles
Fingerprint-resistant oleophobic coating
Support for display of multiple languages and characters simultaneously
Display Zoom
Reachability

OS
Apple iOS v10
Apple iOS v10
Processor
64-bit architure-based A10 Fusion chip with M10 motion coprocessor(It has a 64-bit 4-core. Dual-core processors which is 40 percent faster than the A9. Other two cores are "high efficiency" and use 1/5 power to save batter life of the device and graphics processor is 50 percent faster than the A9 CPU)
64-bit architure-based A10 Fusion chip with M10 motion coprocessor(It has a 64-bit 4-core. Dual-core processors which is 40 percent faster than the A9. Other two cores are "high efficiency" and use 1/5 power to save batter life of the device and graphics processor is 50 percent faster than the A9 CPU)
Storage
32GB/128GB/256GB
32GB/128GB/256GB
Camera

Main: 12MP camera with f/1.8 aperture, digital zoon (up to 5x), Optical image Stabilisation, six-element lens, Quad-LED True Tone flash, Panorama (up to 63 megapixels), Sapphire crystal lens cover, Backside illumination sensor, Hybrid IR filter, Autofocus with Focus Pixels, Tap to focus with Focus Pixels, Live Photos with stabilization, Wide colour capture for photos and Live Photos, Improved local tone mapping, Body and face detection, Exposure control, Noise reduction, Auto HDR for photos, Auto image stabilization, Burst mode, Timer mode, Photo geo-tagging
Front: 7-megapixel photos, 1080p HD video recording, Retina Flash, Æ'/2.2 aperture, Wide colour capture for photos and Live Photos, Auto HDR, Backside illumination sensor, Body and face detection, Auto image stabilization, Burst mode, Exposure control, Timer mode

Main: 12MP camera (Æ'/1.8 aperture) with wide-angle field of view + telephoto camera (Æ'/1.9 aperture), Optical zoom at 2x, digital zoom up to 10x, Optical image Stabilisation, six-element lens, Quad-LED True Tone flash, Panorama (up to 63 megapixels), Sapphire crystal lens cover, Backside illumination sensor, Hybrid IR filter, Autofocus with Focus Pixels, Tap to focus with Focus Pixels, Live Photos with stabilization, Wide colour capture for photos and Live Photos, Improved local tone mapping, Body and face detection, Exposure control, Noise reduction, Auto HDR for photos, Auto image stabilization, Burst mode, Timer mode, Photo geo-tagging
Front: 7-megapixel photos, 1080p HD video recording, Retina Flash, Æ'/2.2 aperture, Wide colour capture for photos and Live Photos, Auto HDR, Backside illumination sensor, Body and face detection, Auto image stabilization, Burst mode, Exposure control, Timer mode

Additional camera features

4K video recording at 30 fps
1080p HD video recording at 30 fps or 60 fps
720p HD video recording at 30 fps
Optical image stabilisation for video
Optical zoom at 2x; 6x digital zoom (iPhone 7 Plus only)
Quad-LED True Tone flash
Slow-motion video support for 1080p at 120 fps and 720p at 240 fps
Time-lapse video with stabilisation
Cinematic video stabilisation(1080p and 720p)
Continuous autofocus video
Body and face detection
Noise reduction
Take 8-megapixel still photos while recording 4K video
Playback zoom
Video geo-tagging

4K video recording at 30 fps
1080p HD video recording at 30 fps or 60 fps
720p HD video recording at 30 fps
Optical image stabilisation for video
Optical zoom at 2x; 6x digital zoom (iPhone 7 Plus only)
Quad-LED True Tone flash
Slow-motion video support for 1080p at 120 fps and 720p at 240 fps
Time-lapse video with stabilisation
Cinematic video stabilisation (1080p and 720p)
Continuous autofocus video
Body and face detection
Noise reduction
Take 8-megapixel still photos while recording 4K video
Playback zoom
Video geo-tagging

Battery
Talk time (wireless):

Standby:

Internet use:

Up to 12 hours on 3G
Up to 14 hours on Wi-Fi

Wireless video playback:

Wireless audio playback:

Talk time (wireless):

Standby:

Internet use:

Up to 13 hours on 3G
Up to 15 hours on Wi-Fi

Wireless video playback:

Wireless audio playback:

Network
4G-LTE
4G-LTE
Add-ons
Wi-Fi (802.11a/b/g/n/ac with MIMO), Bluetooth 4.2 wireless technology
NFC (Near Field Communication), Assisted GPS and GLONASS, Digital compass
Wi-Fi (802.11a/b/g/n/ac with MIMO), Bluetooth 4.2 wireless technology
NFC (Near Field Communication), Assisted GPS and GLONASS, Digital compass
Dimensions
138.3 x 67.1 x 7.1 mm
158.2 x 77.9 x 7.3 mm
Weight
138g
188g
Colours
Jet Black (exclusive to 12GB/256GB), Black, Gold, Rose Gold and Silver
Jet Black (exclusive to 12GB/256GB), Black, Gold, Rose Gold and Silver
Price

32GB: $32.41 (locked: per month) /$649 (unlocked)
128GB: $36.58 (locked: per month) /$749 (unlocked)
256GB: $40.75 (locked: per month)/$849 (unlocked)

32GB: $37.41 (locked: per month)/$769 (unlocked)
128GB: $41.58 (locked: per month)/$869 (unlocked)
256GB: $45.75 (locked: per month)/$969 (unlocked)