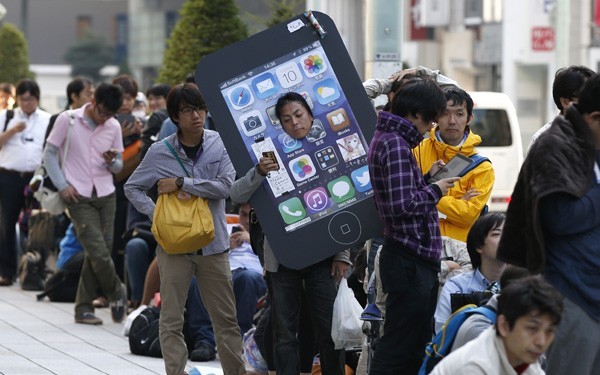 Earlier this week, Apple confirmed to host an event at Cupertino in September giving away the hint that the stage is set for the much-anticipated iPhone 6 series smartphones.
As per numerous reports twirling in the internet, Apple's new generation iPhone series is said to be the most significant upgrade over the predecessors in terms of size and internal hardware.
To give better perspective on the upcoming iPhone 6 series smartphone specifications, price and release date details, we have leafed through multiple reports and have pieced together a list of probable key features, which are likely to make the cut.
Apple iPhone 6 Display and Design Details:
Owing to changing dynamics of global smartphone business and years of criticism from tech pundits and market analysts, Apple has reportedly decided to address the issue by increasing the display foot-print in the upcoming iPhone series so that it can compete with big-screen Android smartphones in the market.
Another most likely reason for the American company to foray in to the big-screen smartphone segment is to give a stiff challenge to the arch-rival, Samsung, which has since late 2012, taken over as the smartphone leader, has widened the gap between the two.
The launch of big-screen Apple iPhone 6 series devices' release seems aptly aligned for big show down with Samsung, which is set to unveil the new Galaxy Note 4.
Both the company's are under pressure from emerging Chinese smartphone makers, especially from Xiaomi, which has taken the industry by a storm. This four-year-old start-up firm recently toppled LG from top 5 smartphone makers chart.
As per numerous media reports from China, Apple is all but certain to launch two new big-screen smartphones - one 4.7-inch and another 5.5-inch with slim body, probably influenced by the sleek iPad Air.
4.7-inch model (iPhone 6) is said to feature in-cell technology-based sapphire display with pixel density of more than 400 ppi (pixels per inch).
On the other hand, 5.5-inch tentatively titled iPhone 6L (aka iPhone Air) will flaunt retina IGZO display with 2272x1280p resolution (courtesy, KDB Daewoo Securities), but it won't be boasting in-touch panel technology as Apple supply partner were having tough time incorporating this in the big-screen and to keep up with the fast approaching launch date they had to do away with In-touch feature.
As stated before, both the Apple smartphone models will have slim body compared to the predecessor. According to leaked internal document of Foxconn (now available with French technology blog, iGen), 4.7-inch model will have 138.0 x 66.0 x 6.9 mm dimensions, where as 5.5-inch model measures - 158.0 x 78.0 x 7.1 mm. Apple iPhone 5S had 7.9mm thickness. These new iPhones won't just be slim and bigger size, but as curvier well.
Apple iPhone 6 Processors, RAM, Storage Details:
Last year, Apple introduced the iPhone 5S with the 64-bit chipset, making it the most advanced architecture-based smartphone in the market and now, the company is said to go a notch up by incorporating 20-nanometre class based A8 series CPU, which can function efficiently with limited 1GB RAM.
As far as storage space is concerned, the new iPhones are expected to come in four variants - 16GB, 32GB, 64GB and 128GB and won't be accompanied by micro-SD card support.
Apple iPhone 6 Camera Specifications Details:
According to reports, Apple is said to keep the camera pixel-count in the main camera similar to its predecessor, but to enrich the photography enhancements with True-tone LED flash and other value-added features.
In terms of hardware specifications, both iPhone 6 models will flaunt 8.0-megapixel main camera and a 3.2-megapixel snapper on the front to impress the selfie enthusiasts.
[Note: More mega-pixel count in the camera does not guarantee a good quality photograph. It all depends on the type of the lens, size and aperture.]
Apple iPhone 6 Mobile Operating System Details:
Like all previous years, iPhone 6 series will ship with new iOS, this version 8. The company has already detailed some of the key features accompanying the new operating system in June at WWDC (World Wide Developers Conference) 2014. It is said to come with new messaging app, iCloud photo library, healthkit app, iCloud Drive, intuitive QuickType keyboard, new enhanced voice-assistant Siri, family-sharing options and tons of new features. [For more information, click here]
Apple iPhone 6 Release Date Details:
Apple has confirmed to hold a event (media-invitees only) on 9 September at Flint Centre for the Performing Arts in Cupertino, California, USA.[Read full report, here]
If history is taken as any indication, Apple will make the new iPhone models available in the market within two weeks after the official unveiling and if a report from China is to be believed, the new Apple smartphones might hit stores on 19 September.
Apple iPhone 6 Price Details:
As for as pricing is concerned, Apple phones will certainly does not come with pocket-friendly price tags. According to the leaked promotional flyer (now available with GSM Insider), the Apple smartphones – 4.7-inch and 5.5-inch models prices will start from 5,288RNB (around $851/€630/₹51,400) and 6,288 RNB (around $749/€749/₹61,100) respectively. Higher the storage space, costlier the device.
[New Price Details Update: Apple iPhone 6, 6L Price Details Revealed Online ahead of 9 September Launch]
Expected Specifications of Apple iPhone 6 and iPhone 6L (aka iPhone Air)
| | | |
| --- | --- | --- |
| Model | Apple iPhone 6 | Apple iPhone 6L aka iPhone Air |
| Display | 4.7-inch/4.8-inch screen with full HD (1920x1080p) resolution (with in-cell LCD technology)Pixel density: 440 ppi (pixels per inch) | 5.5-inch retina IGZO display with 2272x1280p resolutionPixel density: 510 ppi |
| OS | Apple iOS v8.0 | Apple iOS v8.0 |
| Processor | 64-bit A8 chipset | 64-bit A8 chipset |
| RAM | 1GB | 1GB |
| Storage | 16GB/32GB/64GB/128GB | 16GB/32GB/64GB/128GB |
| Camera | Main: 8.0-megapixel camera with true tone flashFront: 3.2-megapixel | Main: 8.0-megapixel camera with true-tone flashFront: 3.2-megapixel |
| Battery | 1,800 mAh | 1,800 mAh |
| Network | 4G-LTE | 4G-LTE |
| Add-ons | Finger-print sensor, Wi-Fi, Bluetooth, NFC | Finger-print sensor, Wi-Fi, Bluetooth, NFC |
| Dimensions | 138.0 x 66.0 x 6.9 mm | 158.0 x 78.0 x 7.1 mm |