Apple began 2018 with the launch of the new iPad (6th gen) with Pencil support, a first for its generic tablet series and followed it up with the new line of iPhones and Watches in September. At the fag-end of the year, Apple saved the best for last, as it unveiled the new iPad Pro along with the MacBook Air and Mac mini.
The new iPad Pro (2018) boasts an iPhone X-inspired edge-to-edge design and it also comes with big upgrades internally.
I have been using Apple's new tablet for close to a week now and here's what I think.
Design, display and build quality
Like the iPhone X (review), which brought the biggest design changes in the iPhone portfolio in years, the iPad Pro (2018) brings forth a breath of fresh air to the iPad series. The new Apple tablet comes with a fully revamped sleek and premium design. I received the top-end iPad Pro 12.9 and Its Liquid Retina screen is so much better and with no notch and a big edge-to-edge design, it is beautiful to look at. Also, the viewing experience is many times better than on the iPhone XR (review).
[Note: 11.0-inch model, except for screen size, has the same design and internal hardware as seen in the 12.9-inch variant]
First thing I did after loading the iPad Pro is to launch Amazon Prime Video and watch high-resolution movies and it was a delightful experience. All thanks to Apple's ProMotion technology which automatically adjusts the display to the movement of on-screen content. It offers refresh rates of up to 120Hz for smooth scrolling, greater responsiveness, and fluid motion. I don't think, I will use puny mobile screens to watch videos, especially from multimedia streaming services anytime soon.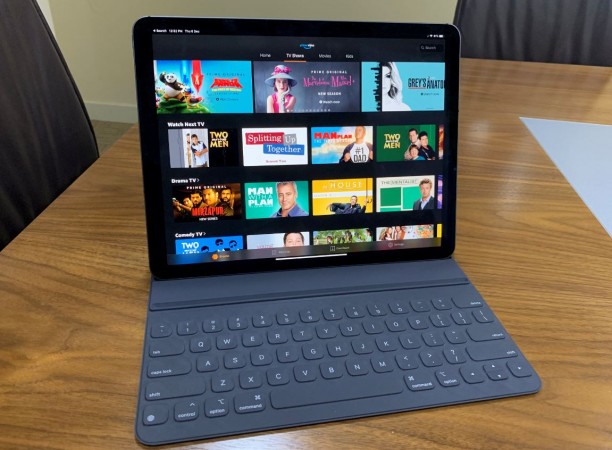 Also, I only recently received an e-book reader from another brand for review and was starting to like reading on it. For curiosity sake, I tried to read on the iPad Pro as well. How it went you ask? To cut to the chase, I am now addicted to Apple's tablet. I have to confess though, I underwent an eye surgery (both left and right) for Keratoconus and am very sensitive to light and have been advised to reduce my screen-time on PCs, mobile, TVs and other digital devices. Thanks to the True Tone display on iPad Pro, I had a pleasant time reading books and at no point did my eyes feel any discomfort.
At first glance, bezels are visibly thick around the edges, but it is still slim for a tablet of this magnitude. Actually, it is helpful for the fingers to hold the iPad without extending it to the functional screen while watching multimedia content. Also, the high screen-to-body ratio, uniformity and curves around corners make the new Apple tablet more visually appealing than ever before as far as the iPads of yore are concerned.
On the back, it has a premium metallic-shell with a 12MP primary camera and an LED flash along with two antenna lines, one on the top and another at the bottom.
Also, I love the Face ID, which scans the owner's face to unlock the screen. Have to say, unlike iPhones, fewer people will miss the fingerprint scanner on the new iPad Pro.
Face ID of the iPad is an improvement over Apple mobiles. The former can recognise the face from any angle, they intend to use it at unlike the iPhone X and later mobiles, where the owner has to hold them with upright with the front camera on top to recognise the face. Apple should bring this particular iPad Pro feature to the iPhones as well.
I Have to mention the magnets on iPad Pro. The company has used 102 tiny magnets and they are the most powerful I have seen on a tablet or any device so far. It is so powerful it can cling on to the refrigerator. However, I advise readers not to attempt it because small distraction on your part, may cause the iPad to drop, and believe me, it will leave a very deep cut in your pocket for repairs and service.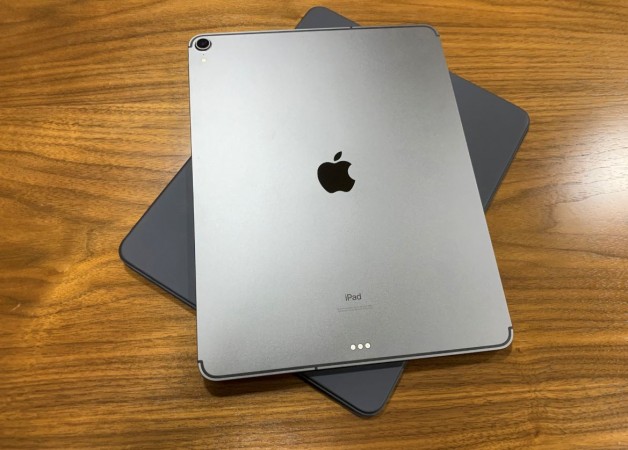 Speaking of magnets, Apple iPad Pro comes with four speakers two each on top and at the bottom and they are the loudest I have seen in a tablet if not a laptop! Yet, the audio is clear and concise with a stereo surround effect which makes for a pleasant experience watching videos. It also has four mics and would definitely help during FaceTime video calls. Even if you close one or two mics on the sides while holding the big-screen up, the other two will still be able to pick up voice.
The Type C USB port in the iPad Pro deserves special mention. For years consumers and tech critics alike have been longing for a universal port for Apple devices and the company has finally delivered it.
This decision bodes well for Apple, which prides itself as an eco-friendly company. By having its own proprietary lightning port, it created an unnecessary demand for niche accessories, leading to the plundering of natural resources for raw materials. Now by using the ubiquitous Type-C port, consumers will not only get the freedom to select their brand of choice, but there will also be fewer wires and connector dongles to worry about.
Most importantly, consumers and even Apple will be able to reduce their carbon footprint even further. Hopefully, Apple incorporates similar port in next-generation iPhones coming in 2019.
There are apprehensions surrounding the structural stability of the 5.9mm thick iPad Pro and believe me, it is well built and sturdy to sustain normal day-to-day wear and tear. Also unlike phones, there is very less chance of a big-screen tablet slipping out of hands unless you are literally sweating butter out your hands. There are lots of test videos on YouTube, which are plain crazy and do not represent real-life scenarios.
Performance
I had a flawless and lag-free experience on the A12 Bionic-powered iPhone XS, XS Max and XR series and now, with the updated A12X Bionic on the iPad Pro (2018), there is a marked difference for the better. Here, I had a delightful experience gaming and doodling with the Apple Pencil 2 on Notes and other drawing apps.
For the uninitiated, Apple's new A12X Bionic comes with an 8-core CPU with four dedicated efficiency cores and four high-performance cores. It is integrated with the proprietary 7-core GPU and additional 8-core Neural-engine. Together they make the new iPad Pro the most powerful tablet on the planet. It can even give modern laptops a run for their money and has the capacity to kill that whole segment, which is already witnessing dwindling in sales.
Benchmark scores are already in the public domain. They are on par and in some cases better than high-end laptops. On AnTuTu, my Apple iPad Pro (2018) review unit scored a mind-boggling 5, 55,478 points.
It can play graphics-intensive games including Augmented Reality (AR) apps and also help users go through video editing without breaking a sweat.
Adobe is preparing a full-fledged Photoshop CC application for the iPad Pro and is slated to hit the App Store early in 2019 and going by the demo during launch, I am confident the new Apple tablet will be buttery smooth, maybe even better than some laptops.
I have to confess though I am a newbie at this, just started learning video editing. I am a bit late to the party but hey, it's better late than never right!
With some help and tips from friends, I spent a few minutes using the iMovie and Quik video editing apps on the iPad Pro (2018) and it showed no lag. Most importantly, I had a lot of fun learning the nuances of multimedia editing and also got a feel of the raw power of the new Apple tablet.
Overall, I had a great experience working on the iPad Pro and intend to dig deeper and explore every possible feature, probably return with a long-term review in the coming months.
Camera
The new iPad Pro comes with a feature-rich 12MP (F1.8 aperture) snapper, a big upgrade over its predecessor. It also boasts of a Smart HDR mode for photos like iPhone XS and XR series, Live Photos with stabilisation, Quad-LED True Tone Flash, Wide colour capture for photos and Live photos, Backside illumination, Five-element lens, Hybrid IR filter, Autofocus with Focus Pixels, Tap to focus with Focus Pixels, Exposure control, Panorama (up to 63 megapixels), Burst mode, Timer mode and Photo geo-tagging.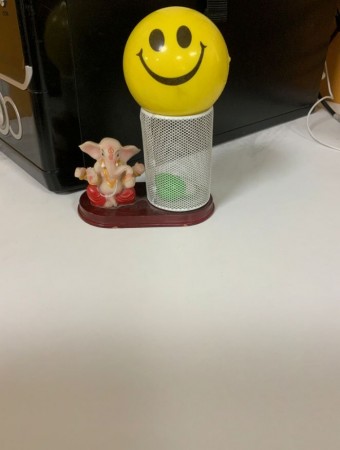 Yes, it has all the bells and whistles that can be seen in the latest iPhones, but I personally didn't feel the urge to go on a photography excursion with the large-screen iPad Pro. It is best suited to take images of documents and with feature-rich apps on the App Store, can convert them to PDF and in a way, it is a productive exercise.
Up front, it houses a TrueDepth 7MP camera with Animoji and Memoji, Live photos, Retina Flash, 1080p HD video recording, Smart HDR for photos and videos, Backside illumination, and Burst mode.
It even boasts of Portrait lighting with all five modes—Natural light, Studio light, Contour light, Stage light and Stage light mono including Depth control feature seen in the new 2018-series iPhones. This is Apple just showing off its hardware capabilities on a tablet, and I have to say, people are unlikely to take portraits or even normal selfies for that matter on this iPad Pro, as the device is too big to hold and iPhones are best suited for clicking pictures.
However, people can experiment with the Memoji feature on FaceTime and it will sure be fun
Battery life
In spite of the enormous screen, Apple iPad Pro (2018), offers decent battery life. I used it to watch TV shows on streaming platforms, but only for about one hour a day. Rest of the time, I browsed the web and read books. Just to test its capabilities, I also played Asphalt 9, it was fun playing on a large screen. Also, I tried the AR-based Night Sky app and the 3D imagery looks awesome on the wide display.
I noticed the battery drained faster while doodling on Notes and also on other sketch-based apps compared to other applications.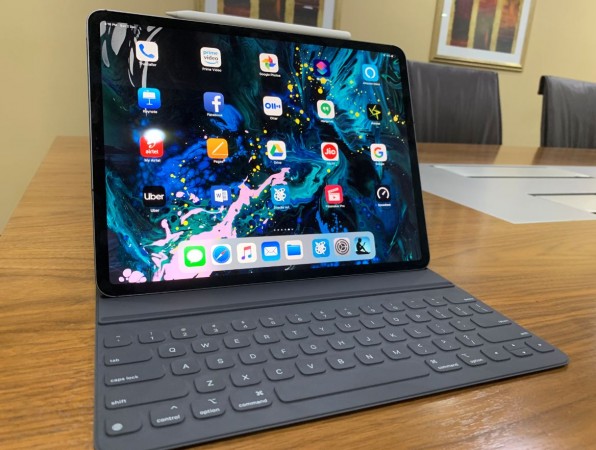 It's not like I spent the whole day using the iPad Pro. I just used it in short breaks in between work and while commuting between office and home. Overall, the new iPad Pro lived up to my expectations.
Also, I like the reverse charging capability of the Apple tablet. It lets iPhones draw power when connected to the new iPad Pro. This is a welcome value-addition feature.
Apple Pencil (2nd gen)
The new generation Apple Pencil is a much better piece of tech over its predecessor. Apple has done a pretty good job refining its design, particularly ditching that awkward port connector from the back. It has a unibody form factor with no removable cap and it gets a big thumbs-up. The first generation model looked odd with a lightning connector at the bottom and when connected to the iPad for charging, there was a risk of breakage.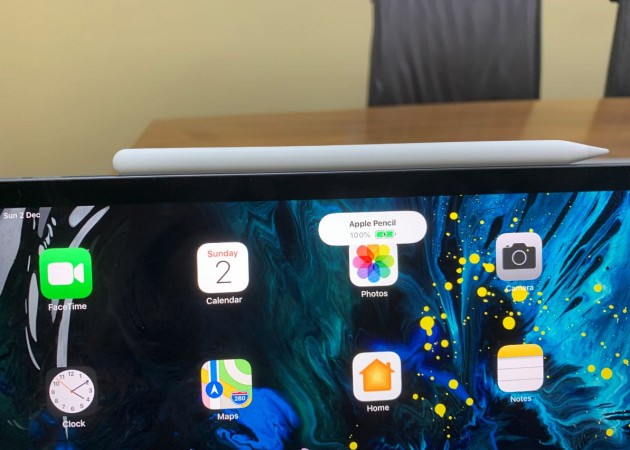 Also, the matte finish and one flat side on the Pencil makes writing or drawing on the screen feel natural. Again, the flat side helps to easily stick it to the iPad for wireless charging. The sensitivity of the Pencil's tip has also undergone a marked improvement. I had a great time doodling on Note apps trying brush strokes.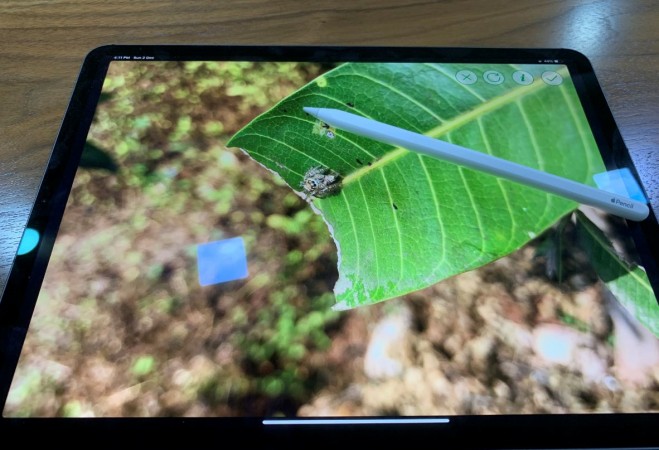 I loved the smart tap sensor placed appropriately just a few inches above the tip. The ergonomic design makes it so much easy to switch between drawing and erasing. By the way, you can switch between multiple options for the double tap feature. For instance, you switch the eraser option to colour palette so that you can quickly change the colours of the pen or the brush.
Apple Smart Keyboard Folio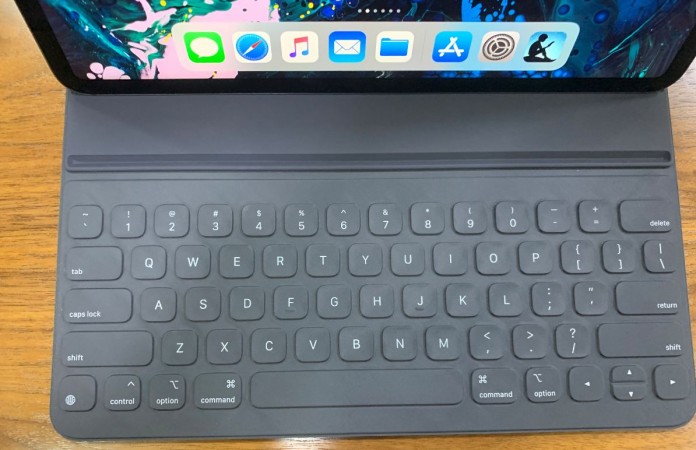 The iPad Pro's keyboard also doubles up as a sturdy outer cover with a matte finish, but it does attract a lot of dust and sweaty fingerprint smudges. Thankfully, it can be wiped clean with hands or a cloth. I also like the fact that it does not depend on Bluetooth to establish a connection with the iPad Pro, it instead comes with a three-pin magnetic connector. It is intuitive enough to know when to activate and not to.
It becomes functional only when the iPad is pulled to either one of the grooves above the keypad in the laptop position. If you fully flip it to the back side in tablet mode, the keys won't get triggered even when it gets pressed by any type of hard surface or even fingers. on tablet mode, only the onscreen keyboard will pop up.
Except for the lack of a track-pad, it gives the Apple iPad Pro a laptop experience.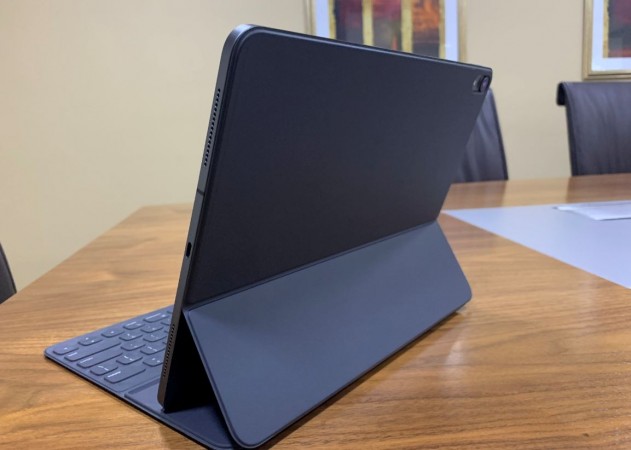 Final thoughts:
Yes, Apple iPad Pro is powerful and will help you do almost everything. There are lots of advantages that the iPad Pro has over conventional carry-on PCs; it is lightweight, has a versatile Pencil, USB Type C port, long battery life and much more.
But...
Apple's iOS pulls the iPad Pro from reaching its full potential. One particular qualm I have with the iPad Pro is that though it can connect to a camera or to an external monitor gives you a PC-like experience, there are limitations.
We cannot freely exchange files between Apple iPad Pro and a portable storage unit. Even the Apple's Folio keyboard though feature-rich is tightly wound and lacks space for a usable track-pad. this is where you start to miss a full-sized laptop.
It also may not be the go-to device for professional graphic designers or software developers, but for a Journalist like me, the Apple iPad Pro offers everything I need. I can edit short videos (which I plan to master soon), write articles, browse the internet for the latest news, social media platforms, shop online, read e-books and watch hours of multimedia content. It may take days if not weeks, but eventually, you will get used to the iPad Pro.
People in other professions and college-going grad students out there who do similar things on personal PCs can make the switch without any apprehension.
If you are concerned about the price of the new iPad Pro, then you can try the affordable iPad (6th gen), which, will support the first-gen Apple Pencil. This is also a very good gift option for kids. It will be beneficial for parents who want to inculcate reading habits at a very early age in their children's life.
Pros:
Apple A12X—most powerful chip for a mobile device in the industry. It is also superior compared to some top-end laptops
Beautiful well-refined design (no-notch)
Premium build quality
True Tone display and ProMotion technology
Apple Pencil 2 makes the iPad Pro versatile (Bummer, you have to buy it separately)
Very reliable Smart Keyboard Folio (You have to buy this separately)
Reverse charging capability
Cons:
Though the iOS 12 allows the iPad Pro to do almost everything, it hinders the Apple tablet from reaching its full potential. Users cannot transfer files from a portable storage device, for example.
Expensive price-tag
Key specifications of iPad Pro (2018) series:
Models

Apple iPad Pro (2018)

Display

12.9-inch LED-backlit with multi-touch and IPS technology

11.0-inch LED-backlit with multi-touch and IPS technology

Screen features

Resolution: 2732x2048p
Pixel density: 264 ppi (pixels per inch)
Fingerprint-resistant oleophobic coating
Fully laminated display
Anti-reflective coating
ProMotion technology (up to 120Hz refresh rate)
Wide colour display (P3)
True Tone display
Supports Apple Pencil (2nd Gen)

OS

Apple iOS 12 ( v12.1 released)

Processor

(64-bit desktop-class architecture) 7nm class 8-core Apple A12X Bionic+ 7 core GPU+ Neural Engine+ M12 motion coprocessor

Compared to A8:

CPU: 3x faster
Graphics: 8x faster

Storage

64GB/256GB/512GB/1TB

[Note: Models up to 512GB storage come with 4GB RAM and for the 1TB variant, Apple has incorporated 6GB RAM]

Main Camera

12MP with F1.8 aperture, Live Photos with stabilisation, Quad-LED True Tone Flash, Wide colour capture for photos and Live photos, Backside illumination, Five-element lens, Hybrid IR filter, Autofocus with Focus Pixels, Tap to focus with Focus Pixels, Exposure control, Smart HDR for photos, Panorama (up to 63 megapixels), Burst mode, Timer mode, Photo geotagging

Front camera

TrueDepth 7MP camera with Portrait mode, Portrait Lighting, Animoji and Memoji, Live photos, Retina Flash, 1080p HD video recording, Smart HDR for photos and videos, Backside illumination, Burst mode, FaceTime video calling over Wi-Fi or Cellular

Video

4K video recording at 30 fps (frames per second) or 60 fps
Slow-motion video support for 1080p at 120fps and 720p at 240fps
Time-lapse video with stabilisation
Cinematic video stabilisation
Continuous autofocus video
3x video zoom
Backside illumination
Video geotagging

Battery

Up to 10 hours of surfing the web on Wi‑Fi, watching a video or listening to music
Up to 9 hours of surfing the web using the cellular data network
Charging via USB-C to a computer system or power adapter

Security

Face ID: Enabled by the TrueDepth camera for facial recognition

Connectivity

All models:

Wi-Fi (802.11 a/b/g/n/ac); simultaneous dual band (2.4GHz and 5GHz) MIMO, Bluetooth 5.0

Wi-Fi+ LTE:

GSM/EDGE
UMTS/HSPA/HSPA+/DC-HSDPA
Gigabit-class LTE (up to 29 bands)
GPS/GLONASS/Galileo and QZSS
Data only
Wi-Fi Calling

SIM Card:

Depending on market: Nano-SIM (Apple SIM) or e-SIM

Add-ons

Four speaker audio, Siri voice assistant, USB-C, Smart connector, Face ID, Three-axis gyro, Accelerometer, Ambient light sensor, Barometer

Dimensions

280.6 x 214.9 x 5.9 mm

247.6 x 178.5 x 5.9mm

Weight

Wi-Fi only: 631 g

Wi-Fi+ LTE: 633g

Wi-Fi only: 468 g

Wi-Fi+ LTE: 468g

Colour

Silver/Space Grey

Silver/Space Grey

Price

12.9-inch model

Wi-Fi only:

64GB: Rs 89,900
256GB: Rs 1,03,900
512GB: Rs 1,21,900
1TB:Rs 1,57,900

Wi-Fi+ LTE:

64GB: Rs 1,03,900
256GB: Rs 1,17,900
512GB: Rs 1,35,900
1TB: Rs 1,71,900

11.0-inch model

Wi-Fi only:

64GB: Rs 71,900
256GB:Rs 85,900
512GB: Rs 1,03,900
1TB: Rs 1,39,900

Wi-Fi+ LTE:

64GB: Rs 85,900
256GB: Rs 99,900
512GB: Rs 1,17,900
1TB: Rs 1,53,900
Stay tuned. Follow us @IBTimesIN_Tech on Twitter and on Google News for the latest updates on Apple.