It's been barely a few weeks since Apple released the major iOS v12 update to iPhones, iPads and iPod Touch series. Now, the company is gearing up to roll-out the new iOS 12.1.
One of the major upgrades coming in the iOS 12.1 is the emoji. Apple has confirmed that it is bringing more than 70 emoji ranging from adorable Llama, swan, racoon to annoying mosquito. It also adds more characters to the keyboard that will better represent global users, including new emoji for moon cake, red gift envelope and Nazar amulet.

"Sports fans will celebrate the addition of new emoji for softball, frisbee and lacrosse, while outdoor adventurers will enjoy new characters for luggage, compass and a hiking boot to accompany the existing climbing emoji," Apple said.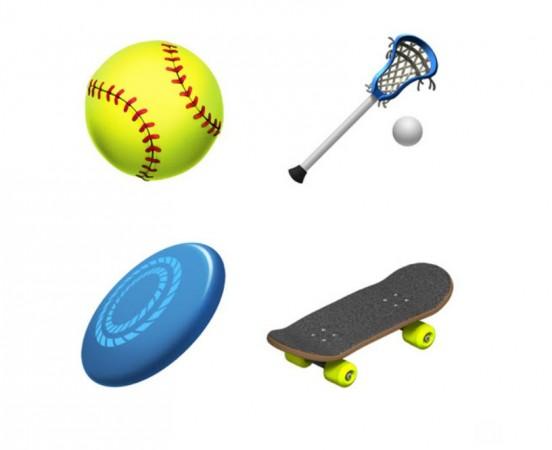 With the addition of new digital icons, communication on iMessage will be more fun for iPhone and iPad users. Apple has also confirmed to bring similar emoji to Apple Watch and Mac series with respective watchOS and macOS updates in near future.
One more thing...
Besides the introduction of several new emoji, Apple is reportedly bringing a critical bug-fix that will resolve the charging issue reported by several iPhone XS series owners.
Apple did not officially confirm this news, but several beta developers who are already testing the iOS 12.1 are saying that the software as a fix for the aforementioned bug.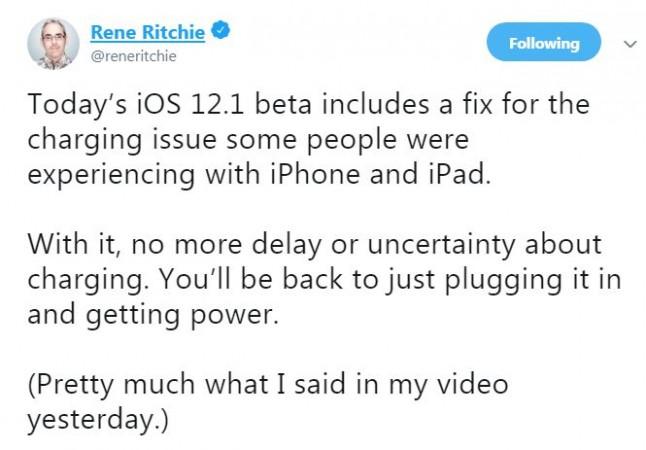 Soon after the launch of the new mobiles, some users complained of their iPhone XS and the iPhone XS not charging despite connected to the power cord. The problem was that if the iPhone was inactive for a few minutes, it did not charge. But it only begins charging when the user wakes the screen up or else it would remain idle.
However, this issue is affecting very few people, as our review units both the iPhone XS and the iPhone XS Max with International Business Times India Edition are working perfectly fine. We believe some less fortunate people got defective models. It happens with any other mobile brands, which churns out millions of units and some rare instances, a few defective gets into the hands of the customers. For instance, Apple reportedly sold more than 216 million iPhone units in 2017 alone and if we make the maths, even 0.001 per cent of them are defective, it rounds up around 2,160.
Now, Apple is a trillion dollar company, even small issues get blown out of proportion in the social media. Yes, Apple rarely responds to reports of malfunctioning of their products, but, have to say the Cupertino-based company has the most customer-friendly after-sale service compared to any other brand in the industry.
Also, iPhones carry a global guarantee, meaning even if the customer buys an iPhone in one country and resides in another, they can get their iPhones replaced or repaired in their home market for free provided it is under warranty period and there is no physical damage.
For now, it seems the problem is related to the software. It can be noted that Apple made some changes in iOS 11.4.1 update. When iPhones or iPads or iPods are unused or unlocked for more than an hour, the user has to open the iPhone for it to detect the charging cable or any other accessory.
Apple added USB Restriction Mode in the iOS 11.4.1. Once enabled, It blocks illegal access to the contents of the iPhone through the cracking gadgets such as the GrayKey that connect via the Lightning port. It will lock down the data connection over the Lightning port if the iOS device hasn't been unlocked for one hour.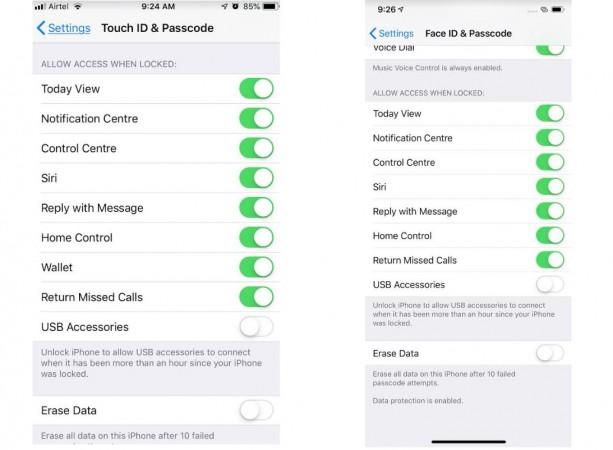 The iPhone XS and iPhone XS Max owners can wait for the iOS 12.1 update or if facing with more serious issues can head to Apple Store or authorised service centres to get them checked.
Stay tuned. Follow us @IBTimesIN_Tech on Twitter and on Google News for the latest updates on Apple.