The pain of recovering Apple ID password is real as users don't use it often to remember it. The real trouble begins when you've tried multiple times and got locked out of your own Apple account. But what if Apple ID accounts got locked even without users' interference. It sure gets frustrating and that's exactly what is happening with some users.
Several iPhone users have been complaining on online forums and social media platforms, including Reddit and Twitter, that they have been locked out of their Apple ID accounts without any clear reason. Apple normally locks an ID for security reasons, especially when someone tries to login with incorrect password too many times.
iPhone users will be notified of the Apple ID account status with an alert in Settings, asking to "Update Apple ID Settings." Under normal circumstances, re-entering the correct password should get things back to normal, but several users are reported that their accounts have been frozen.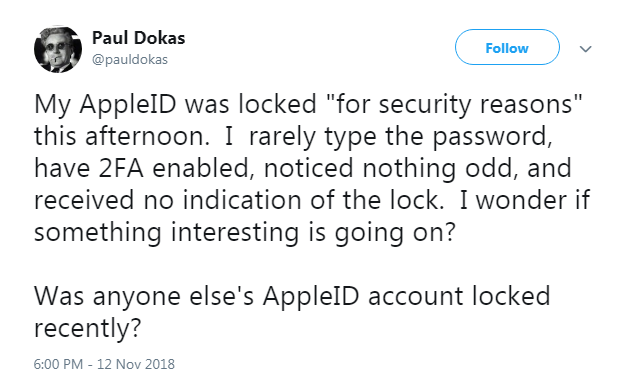 To restore access to Apple ID accounts, users must answer the security questions, enter a trusted phone number and then reset the password. While Apple hasn't commented on the matter yet, the company support handle on Twitter is redirecting users to an article on how to regain access into Apple ID accounts.
Without knowing the actual cause behind this wave of password resets, there could be more than one reasons why this is happening. For instance, 9to5Mac noted that it could be the work of some unscrupulous group attempting to hack several Apple IDs at once or a possible bug on Apple's end. Either way, the only solution to get your iMessage, iCloud, Apple Music and other services linked to Apple ID to work normally is to reset the password.