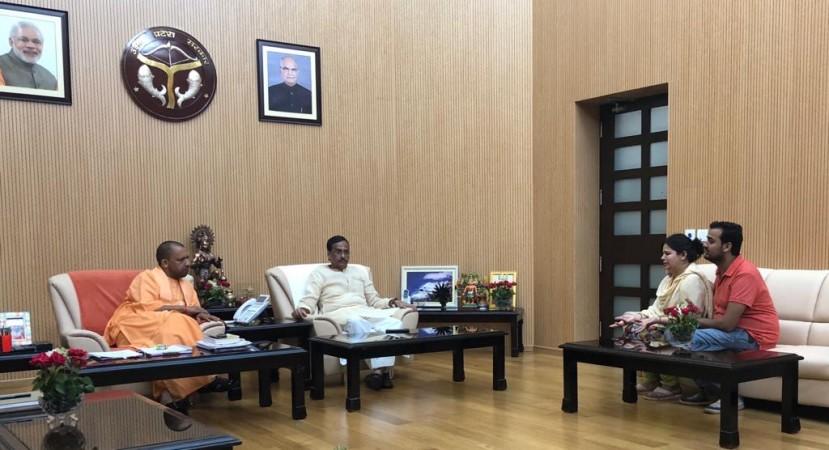 The constables of Uttar Pradesh Police have come out in support of their fellow colleague who was arrested and suspended for his involvement in the Apple employee murder case. They were seen sporting black arm bands as a sign of silent protest and solidarity for their now-disgraced colleague.
The constables, who participated in the protest at Agra, have also reportedly declared that they would take up an indefinite fast and even start a strike unless all charges are dropped, according to The Times Of India. Constable Prashant Chaudhary of the UP Police is now under arrest as the main accused in the Vivek Tiwari murder case.
A call for protest was spread through Facebook and WhatsApp and messages were spread widely by fellow police officers, notes the report. "We have asked all constables of UP police to gather at Allahabad and observe October 5 as 'Kala Diwas' in order to protest against the senior officers of department, who instead of supporting their men, prefer to punish them," the general secretary of Police Non-gazetted Employees Welfare Association, Uttar Pradesh, Avinash Prakash Pathak, told TOI.
He went on to say that cops will be wearing black ribbons to protest the arrest and that senior lawyers of the Allahabad High Court will also be present to offer legal help to the accused officer.
Pathak is also reported to have explained why the arrest was unjust by saying that Chaudhary was on regular duty and that he, along with his colleague, was on a police motorcycle when Vivek Tiwary attempted to run them over with his car.
He claimed that Chaudhary fired back in an act of self-defence and that if hadn't, he would have been crushed under the wheels of Tiwary's car. He claimed that there was no criminal intent on Chaudhary's part and that senior officials took action without probing the matter fully.
The incident took place on September 29 when the police officer shot and mortally wounded 38-year-old Apple exec by shooting him in the neck. The incident took place in the Gomti Nagar area. The policeman is reported to have pulled Tiwari over for a routine stop, but he did not stop, instead, allegedly, tried to run the officer over.
Tiwary's colleague, Sana Khan, who was with him in the car, at the scene, however, seems to give a conflicting account of the happenings. Khan alleges that she and Tiwary were on their way home from work when two officers came from the front of the vehicle and fired at the driver — Tiwary. After receiving a bullet to the neck was reportedly rushed to Lohia Hospital where he succumbed to his wounds.
Multiple cases of police officers protesting in their own way, apart from the black band, were also reported. There was even an instance of a constable posting foul and derogatory remarks about Tiwary's widow, which has since been taken off Facebook, notes TOI.