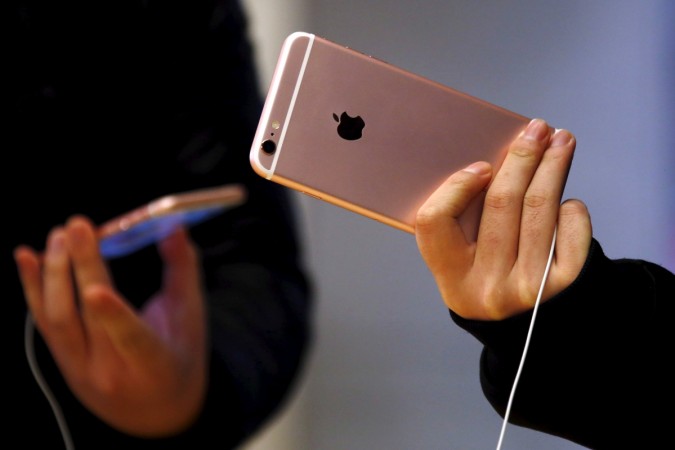 While most of us look at Apple for its unparallelled success and achievements, there is a downside for that popularity that keeps the company busy with regular court visits. Whether it is a battle against the government for unlocking its iPhone or a patent infringement case against its biggest rival, Apple has had its share of legal troubles. Now, a resident of Florida is claiming that the iconic design of the iPhone infringes upon his invention of a hand-drawn "Electronic Reading Device" (ERD) in 1992.
Thomas S. Ross, the plaintiff in the case, has sued Apple for copying his ERD's design in the iPhone, iPod touch and the iPad, MacRumors reported citing the court filing. Ross' claims are based on a series of three drawings that were conceptualized between May 23, 1992, and Sept. 10, 1992, nearly 15 years before the first iPhone was launched.
The designs of the device included in the court filing show flat rectangular panels with rounded corners. The drawings also detail the functionality of the device like allowing users to read stories, news articles, look at pictures, watch movies and also include communication functions such as calling and connectivity through a model.
Below is the extract from the court filing:
What Ross contemplated, was a device that could allow one to read stories, novels, news articles, as well as look at pictures, watch video presentations, or even movies, on a flat touch-screen that was back-lit. He further imagined that it could include communication functions, such as a phone and a modem, input/output capability, so as to allow the user to write notes, and be capable of storing reading and writing material utilizing internal and external storage media. He also imagined that the device would have batteries and even be equipped with solar panels.
Ross' drawings included some futuristic tech, which is yet to be incorporated into most smartphones. In one of the drawings, the ERD was shown to feature a folding, dual screen design, solar charging panels and a 3.5-inch diskette slot.
In order to protect his invention, Ross applied for a utility patent in November 1992, but the U.S. Patent and Trademark Office declared the filing void by April 1995 due to non-payment of fees. But Ross is seeking at least $10 billion in cash and a royalty of up to 1.5 percent from Apple's worldwide sales of the allegedly infringed devices. The Florida court is yet to rule on the case, but the future of this case is balancing on a very sharp edge.