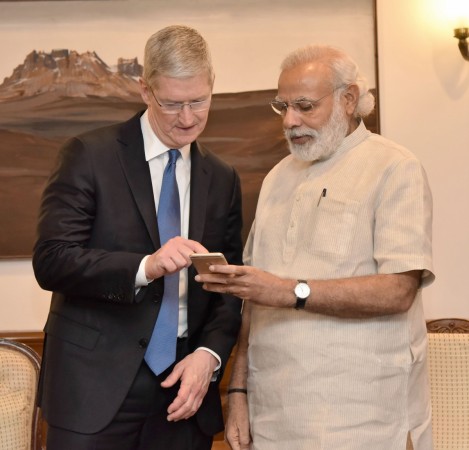 Apple CEO Tim Cook met Indian Prime Minister Narendra Modi on Saturday at his official residence in New Delhi. The CEO of Cupertino-based smartphone maker launched an updated version of the Prime Minister's mobile app and also spoke of the possibility of making and selling Apple phones in India.
Cook is in India as part of an Asian tour to boost the company's sagging smartphone sales, even as India, one of the top three smartphone markets globally, saw a surge in smartphone sales in calendar year 2015. Apple's share in the burgeoning 100-million Indian smartphone market is about 2 percent, the Hindustan Times reports.
Cook and Modi also discussed cyber-security, data encryption and the prime minister's "Digital India" initiative, according to a statement by the Prime Minister's Office.
Both of them tweeted about their meeting.
Thank you @tim_cook! Friends, welcome & happy volunteering. Your views & efforts are always enriching. pic.twitter.com/aAu4isv6wM

— Narendra Modi (@narendramodi) May 21, 2016
Thanks PM @narendramodi for a great meeting. Already looking forward to next visit to India. Best wishes on the app! https://t.co/ctXiKoCiS0

— Tim Cook (@tim_cook) May 21, 2016
Cook's maiden India visit began on Wednesday with a visit to Mumbai's Siddhivinayak temple, where he also met Anant Ambani, the son of Reliance Industries chairman Mukesh Ambani.
The company has a lot to catch up on with rival Samsung in India.
International Data Corporation released an update this February that India smartphone sales rose 28.8 percent to 103.6 million units. Korean electronics firm Samsung had the largest share at 26.8 percent in the December 2015 quarter.
The Indian smartphone market is expected to sustain high growth rate this year also.
"IDC expects the smartphone shipments to grow at double digit rates in CY 2016.The share of smartphones in the overall mobile phone market was around 40 percent in CY 2015 and given the current trend, smartphone sales would overtake feature phone sales in 2016," it said in its update.
Also read: Premium smartphone shipments to touch 5 million units in India this year