Anushka Sharma rarely expresses her love or share private moments on social media. But husband Virat Kohli seems to have changed the Pari actress.
After Virat posted their adorable picture on Instagram, Anushka replied to the picture saying: "I miss you too my love."
Not just a lovely comment, but she went ahead and made that photo her Instagram profile picture. Isn't it aww-dorable?
Virat shared this photo on Tuesday with caption: "My one and only!" Soon it became viral and Bollywood celebrities were seen liking the post. While everyone was eagerly waiting for his wife Anushka's response, the actress didn't disappoint us.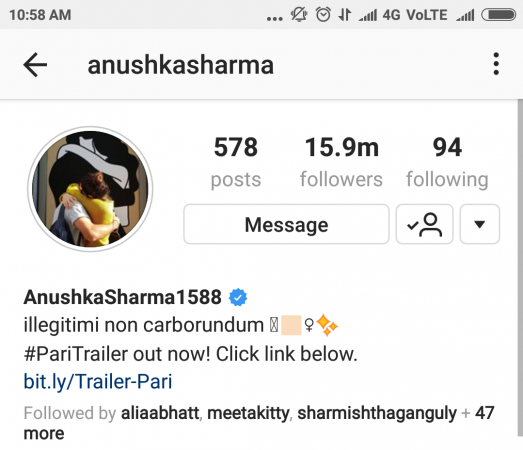 The photo doesn't show it clearly, but it looks like Anushka and Virat are tightly hugging each other and involved in an intimate and passionate kiss. This is the very first time fans have seen such pictures of this "private" couple, but now after their marriage, none of them is shying away from showing off their love in public.
When Virat Kohli scored his 34th One-Day International 100 in the 3rd ODI of the series against South Africa in Cape Town, Anushka expressed her joy and admiration for her cricketer hubby on social media. Then, it went on whenever the cricketer performed well in his game.
In return, Virat stood up for his wife in front of the media. The Indian Cricket team won the ODI series 5-1 against South Africa on February 16. Virat Kohli was declared the man of the match as well as the man of the series. After the match, Virat Kohli spoke about the win, game, and went on to thank Anushka Sharma and credit his wife for all the motivation and support.
In a speech, he said: "My wife has been keeping me motivated throughout, she deserves a lot of credit for this. She has been criticized a lot in the past, but she is one person who has kept me going throughout this tour and when times have been tough and I am really grateful for that."