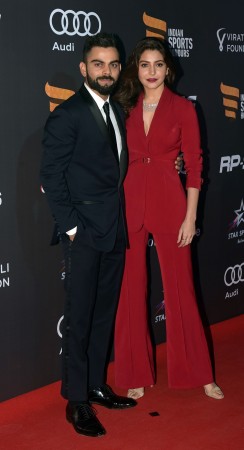 Indian Cricket team won the ODI series 5-1 against South Africa on February 16. Virat Kohli was declared the man of the match as well as the man of the series.
After the match, Virat Kohli spoke about the win, game, and went on to thank Anushka Sharma and credit his wife for all the motivation and support.
In a speech, he said: "My wife has been keeping me motivated throughout, she deserves a lot of credit for this. She has been criticized a lot in the past, but she is one person who has kept me going throughout this tour and when times have been tough and I am really grateful for that."
And Anushka Sharma couldn't keep calm as she yet again wrote 'What a guy with 'hearts' on Instagram. Her happiness sure had no boundaries.
As we all know, Anushka Sharma, who married Virat Kohli in December 2017, was trolled and targeted by cricket fans when Kohli got out for 5 runs in South Africa post his honeymoon. Anushka was in the stands cheering him but trolls started again.
Kohli struck his 35th century in the final match and finished the series with 558 runs. Virat Kohli also became the first player to score over 500 runs in a bilateral ODI series. On the professional front, Anushka Sharma is busy promoting her next film Pari which will release on March 2.
In a media interaction earlier, Virat had spoken about shifting to cricket post his marriage: "Not difficult at all, I was away for something (marriage) which is much more important. That is a period that will always remain special for both of us. Switching back to cricket is not difficult at all because it is in my blood like it is for every other team member and the team management as well, so getting back to professional front is not difficult at all."