Thousands of African-Americans marched through Chicago, where they shut down the Dan Ryan Expressway to denounce the wave of violence suffered by the community in this city.
Saturday's march was led by the Reverend Michael Pfleger, pastor of St. Sabina Catholic Church, who said minutes before setting out that this was a non-violent protest for peace, reports Efe news.
As the march was just beginning, state police detained the demonstrators in 76th Street to talk about whether the state of Illinois would allow them to block six lanes of the interstate expressway. They waited there for a tense hour until the police allowed them to shut down the expressway.
As the march went forward once more, the original 2,000 protesters were joined by hundreds more demonstrators. Many in the growing crowd wrote on the street and some bridges along the way the names of those slain in the violence.
James Curry, a protester age 62, said the African-American community in the city needs better education because no kid grows up saying he wants to be a gangster. Many demonstrators carried posters saying "We need jobs", "Stop the violence", "No more drug war", "Save our schools" and "Black lives matter".
Pfleger and Reverend Jesse Jackson, an activist who in his youth marched with Martin Luther King, said the protest ought to make politicians aware of the unacceptable violence that afflicts the south and west sides of the city, where there are several black neighbourhoods.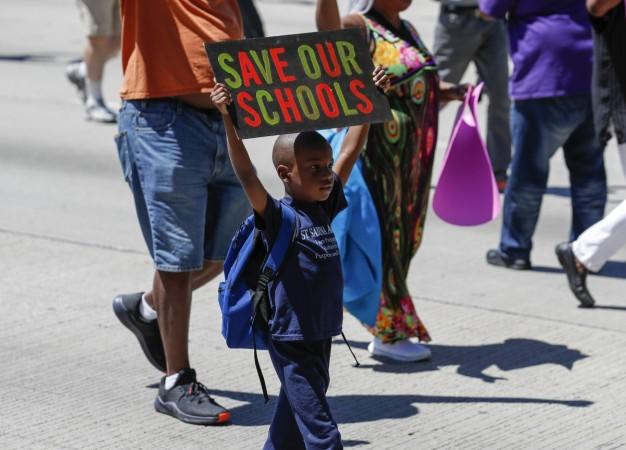 So far this year, 271 people have been killed in Chicago and another 1,435 were wounded in acts of violence.
At the end of the march, during which no one was arrested, Republican Governor Bruce Rauner tweeted a criticism of Chicago's Democratic Mayor Rahm Emanuel for allowing the march to block the expressway.