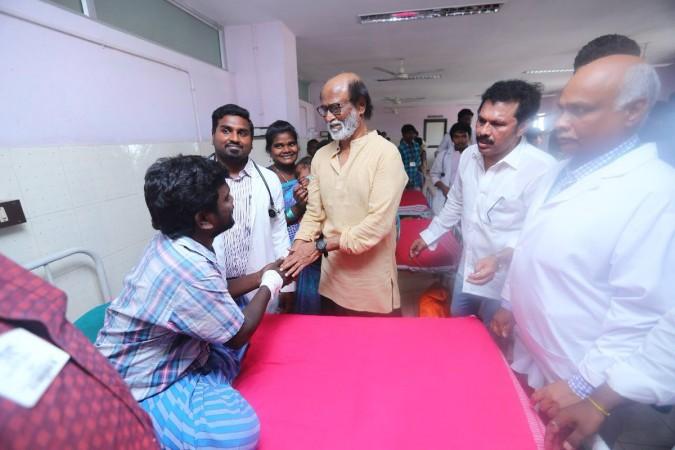 A week after the violent protests over Sterlite plant in Tuticorin, Tamil superstar Rajinikanth met the families of the victims at a hospital on Wednesday, May 30. He has announced Rs 2 lakh each to the families of people who were killed and Rs 10,000 each for the injured.
Rajinikanth said that such incidents should not have taken place. "Government needs to be careful as the people are watching them. It was a huge mistake and a big lesson," he said.
The superstar felt that people in general never indulged into violence and put the blame on intelligence failure. On asking whether Rajinikanth is seeking the resignation of Tamil Nadu Chief Minister Eadapadi K Palaniswami, he said, "I do not believe in resignation politics."
Last week, the police had opened fired at anti-Sterlite protesters when a section of people resorted to violence. The incident led to the death of 13 people and left over 100 injured.
From politicians to public figures, many condemned the firing and blamed the state government for poorly handling the issue.
People of the coastal town have been protesting against the expansion of UK-based Vedanta Resources' copper plant in its Thoothukudi factory.
On the other hand, Rajinikanth's Kaala is in trouble in Karnataka. The Tamil superstar's stand on the Cauvery issue has irked pro-Kannada groups.
The Karnataka Film Chamber of Commerce too has expressed its support towards the Kannada groups and have asked theatres not to screen the film.
Meanwhile, the Tamil Nadu government has ordered permanent closure of the plant controlled by Vedanta Resources.