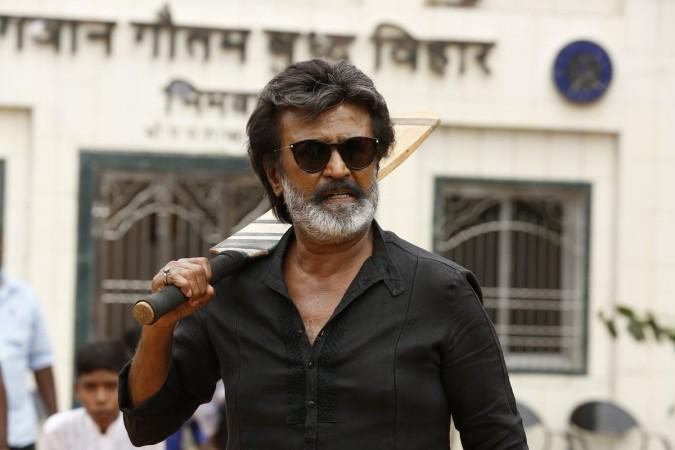 Rajinikanth's Kaala is unlikely see the light of the day in Karnataka after the distributor of the movie backed out of releasing the Tamil film in the state.
The Kannada groups are up in arms against Kaala over Rajinikanth's anti-Karnataka stand in connection with Cauvery issue. Surprisingly, the Kannada Film Chamber of Commerce has extended its support to the ban on the film in the state.
Saurav Sharma, the distributor of Kaala, held a meeting with the Film Chamber of Commerce on Tuesday, May 29, and has decided not to release the Rajinikanth-starrer after having discussion with its president Sa Ra Govindu and others.
"We held discussions with the film chamber. The chamber has asked all its members to not release the film in the state. We have voluntarily decided not to release the film considering the sentiments of the people in the state. From what we see, it doesn't look like this issue is going to be resolved before the movie releases," Saurav Sharma, the head of Goldie Films, is quoted as saying by News18.
Speaking to International Business Times, Vatal Nagaraj, president of Kannada Chalavali Vatal Paksha, recently said, "We will not allow the release of Kaala in Karnataka. Rajinikanth's stand is unacceptable to us. He is against Kannadigas. So, we won't allow the release of his film." Many other pro-Kannada groups have echoed the same views.
Sa Ra Govindu has said that Rajinikanth and Kamal Haasan's movies will not release in Karnataka anymore as their stand have hurt the Kannadigas.
"As an actor, he always handled issues on Cauvery in a diplomatic way. But when he entered politics and formed a party, he made a direct attack on us, which has not gone down well with Karnataka. It is a question of our prestige and we want to keep our word. We will not allow his film to be released here," The New Indian Express quotes Govindu as saying about Rajinikanth.
Rajinikanth's demand to form the Cauvery Management Board has irked the pro-Kannada groups. Soon after the new government came to power in Karnataka, the Tamil superstar asked the newly-elected government to release water for Tamil Nadu. He has been demanding the centre to form the Cauvery Management Board.
Karnataka Chief Minister HD Kumaraswamy hit back at Rajinikanth stating that he should visit the dams to understand the realities. "If there is really water here, it is possible for us to give. I am requesting Rajinikanth, please come and see for yourself the situation in our dams, what is happening to our farmers. And after that, if you still want water, then let us discuss," Deccan Chronicle quoted him as saying.