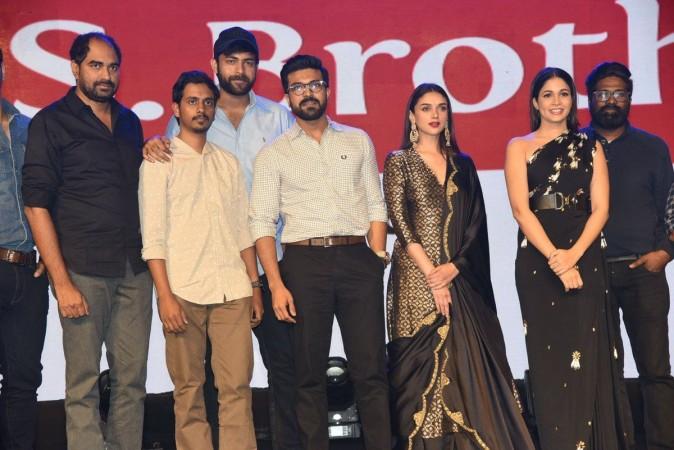 Mega power star Ram Charan could not stop going gaga over his cousin Varun Tej at the pre-release event of Antariksham and said that he is jealous of him for being a part of such an amazing film.
The pre-release event of Antariksham was held in Hyderabad on Tuesday evening. Ram Charan took a break from the production of Vinaya Vidheya Rama and graced the function as the chief guest. Speaking on the occasion, the actor said, "It has become a big thing to do one film in a year and doing two films is luck. All of us wish to do two movies a year."
Ram Charan added, "More than doing films, I feel glad to meet you twice a year. After a long time, I am standing before you due to Varun's film. He requested me to attend the event and I accepted his plea without a second thought. My love for him made me watch the trailer (of Antariksham). My love and respect for him increased further as I have not watched such an amazing trailer in recent times."
Talking about Varun Tej, Ram Charan said, "He has been surprising us time and again. Sometimes I felt happy to watch his films and at times, I also felt jealous of him. I am jealous that he is part of such a lovely film. Those who are positive-minded will always be blessed with good things in life by God. I hope he will continue to do such amazing films. I wish Antariksham will impress all section of the audience."
Meanwhile, Ram Charan also heaped praises upon on Aditi Rao Hydari and Lavanya Tripathi, who have played the female leads in Antariksham. He said that he has watched their previous movies. He congratulated both for being part of such an amazing film and doing a good job.