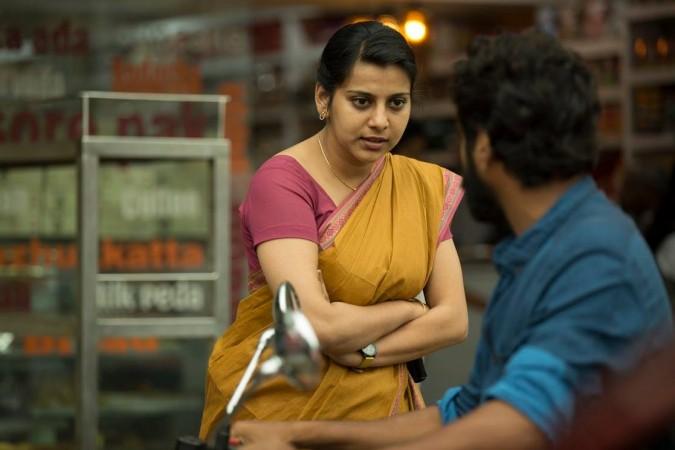 Anna Rajan rose to fame by portraying the character Lichi in the realistic entertainer Angamaly Diaries, and recently appeared in a big role in Mohanlal-starrer Velipadinte Pusthakam.
A tricky question asked at a recent television show on Malayalam channel Surya TV by the host has now landed her in some trouble.
OPINION: Will Mammootty, Mohanlal speak up on their fans' abusive attitude towards criticism?
"If Mammootty and Dulquer Salmaan come together in a movie, whose heroine would you want to be?" she was asked.
To this question, the rising actress replied: "Let Dulquer be the hero and Mammooka be the father." She also diplomatically added: "Let Mammootty be the hero and Dulquer be his father."
Also read: Mohanlal fans troll Vineeth Sreenivasan on Facebook; here's why
Little did she know about the consequences she would have to face for this reaction, which has irked ardent fans of Mammootty.
The fans of the megastar took to social media to abuse and create memes about the actress, who they even called "ammachi" (grandmother) and a replacement for actress Ponnamma Babu.
As news of this development spread, she chose to come live on Facebook to clarify on what exactly happened. But Anna, who was very upset with the negative reactions of the netizens, broke down during one of the two FB live session.
"I meant it to be a joke as I am no one to insult Mammookka or Kunjikka. I am sure I will never reach that level anytime in future. But people misinterpreted my comment and I never thought websites would twist the facts. I am very upset," Anna was heard saying in the live video.
"I sincerely apologise to the fans of Mammootty and Dulquer if my statement has hurt you. I want to act in both Mammookka and Dulquer's movies. I don't want to insult them. Your Lichi won't do that," she added.
Check: Jimikki fever spreads: How Jimikki Kammal song became hot favourite this Onam [VIDEOS]
Anna also revealed that she was approached to star in a Mammootty film even before signing Mohanlal's Velipadinte Pusthakam, but it got postponed due to some issues.
The live videos of Anna have gone viral on social media, with many coming forward in her support.
Actress Rima Kallingal, who defended Anna by stating that Mammootty can rock even in father roles, posted on her Facebook page:
Lichi was trolled for saying a 65 year old actor could play her fathers role? Why?? These people don't think Mammootty can carry that role? I think he can rock it.. like a boss.. remember Kouravar? I think he is a super brilliant actor and we will accept him playing a 70 year old or a 30 year old just like we will accept super brilliant actors like Shobhana, Urvashi and Revathy playing 70 year olds or 30 year olds... alle? How absolutely non-hypocritical, non-sexist, non-ageist lovely beings we are. Who is ruining our name by trolling lichi? What is the problem here? And why and what is Lichi apologising for?
However, the fans of the megastar have now started abusing Rima for supporting Anna!
Even subtitlist Vivek Ranjit has asked fans not to turn the word 'Fan' into an abuse.
Watch Anna's Facebook live videos here:
-