Mollywood's all rounder Vineeth Sreenivasan is basking in the success of his recent Malayalam song Entammede Jimikki Kammal, which has become a popular track that has crossed many boundaries.
On Sunday, September 24, after Mohanlal released his version of Jimikki Kammal, Vineeth too shared the video on his Facebook page. But little did he know that it would garner him negative response from netizens.
Watch: Finally, here's Mohanlal Jimikki Kammal version and it is the latest sensation!
The filmmaker shared the video with the caption: "Wowwww!!! Lal uncle's version of Jimikki Kammal!!! [sic]" This seemed to irk some the social media users [read Mohanlal fans].
But why? Because Vineeth referred to Mohanlal as "Lal uncle" and not the popular moniker Lalettan!
It might sound strange, but Keralites love Lalettan and Mammookka (Mammootty) the same way they like their quintessential chips and ethakappam (banana fritters). Thus, someone addressing their superhero as "uncle" was unacceptable to them.
"Lal uncle? Ha then you should be called Vineeth grandpa, [sic]" commented a netizen.
"Even people aged 6 to 60 call him Lalettan and you call him uncle, [sic]" others wrote in reply to the actor-singer's post.
Also check: Even Jimmy Kimmel loves Jimikki Kammal
Meanwhile, some defended Vineeth as his father Sreenivasan was a close friend of Mohanlal.
"What is the big deal here? Vineeth grew up calling Lalettan as uncle. His family is very close to Mohanlal's family, [sic]" commented a Facebook user.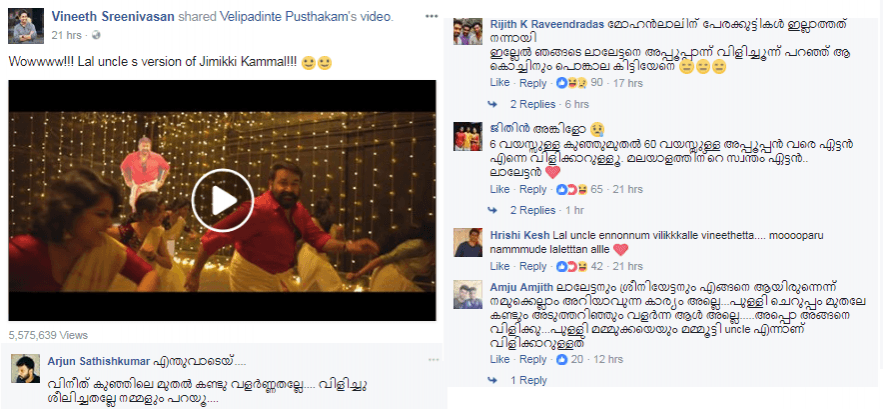 Jimikki Kammal fever all over
Composed by popular musician Shaan Rahman, the Jimikki Kammal song from the recent Mohanlal-starrer Velipadinte Pusthakam has taken the Internet by storm.
Of late, many spin-off videos of the song have surfaced online with students and professionals dancing to the hit track as part of the Onam celebrations this year.
Also watch: Viral Jimikki Kammal videos
Apart from Vineeth, singer Renjith Unni and composer Shaan Rahman have also lent their voice for the hit number.
"For all the love and appreciation that I have been receiving for Jimikki Kammal, a small info about the song. It's not just only my voice in the song. A very talented singer called Renjith Unni has sung the song along with me.. And of course Shaan's voice is there in the hook lines and a few ad-libs.. just sharing this for those who didn't know [sic]," Vineeth had earlier posted on his social media page.
Watch Entammede Jimikki Kammal official song video here: