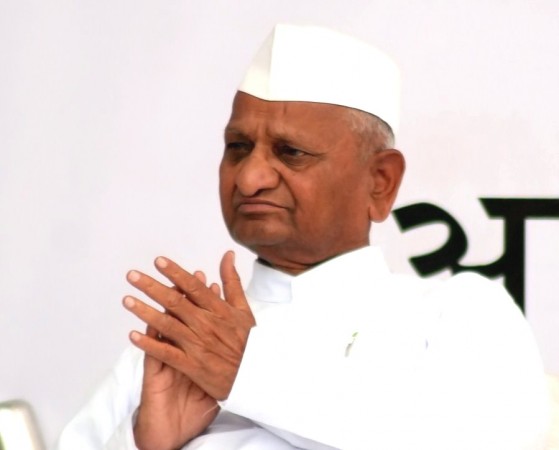 Anti-corruption crusader Anna Hazare is back in the headlines after lauding Prime Minister Narendra Modi's demonetisation move. This time, he is taking the legal route to fight graft and on his crosshairs this time are Nationalist Congress Party (NCP) co-founder and current president Sharad Pawar and his nephew Ajit Pawar, against whom he has moved the Bombay High Court.
Also read: Setback for Ajit Pawar as Maharashtra govt scraps irrigation projects under scrutiny in corruption case
According to a PTI report, Hazare has filed three public interest litigations (PILs), including one against the Pawars alleging that their actions with regard to sugar mills in Maharashtra has led to losses of Rs 25,000 crore to the state exchequer, cooperative societies as well as to the public. He has appealed to Justice Abhay Oka — in whose court the PIL will be heard on January 6 — to initiate a probe by the Central Bureau of Investigation (CBI) into the case.
Sharad Pawar, it may be noted, has often been accused of being close to sugar mill owners in Maharashtra, and engineering both state and Central government policies in their favour. He has been accused of jacking up sugar prices during his tenure as Union agriculture minister in an effort to help sugar mill owners and hoarders.
The criminal PIL filed by Hazare with the Bombay HC pertains to another point of time, alleging that Pawar and his nephew's policies led to sugar cooperative factories being burdened with debt, after which they were sold at throwaway prices to their current owners, who are reaping the benefits.
The lawsuit has urged the Bombay HC to order a probe by a Special Investigation Team (SIT) into the role of "politicians in the sugar cooperative scam, including NCP president and former Union agriculture minister Sharad Pawar and his nephew and former irrigation minister Ajit Pawar," according to a PTI report.
The report also says the other PILs have called for a "CBI inquiry into the allegations of corruption and misuse of government and cooperative funds involving lease and sale of cooperative sugar factories which caused Rs 25,000-crore loss."