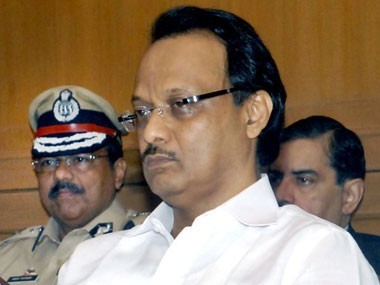 The Maharashtra government has scrapped irrigation projects worth Rs. 6,000 crore due to pending investigation by the Anti-Corruption Bureau (ACB). The move is seen as a major setback for former Maharashtra Deputy Chief Minister Ajit Pawar, who is embroiled in the corruption case.
Pawar, who was Maharashtra Water Resources Minister between 1999 and 2009, had reportedly approved irrigation projects worth Rs 20,000 crore in 2009 by bending rules and without clearance of the Governing Council of Vidarbha Irrigation Development Corporation (VIDC).
On Tuesday, the Nationalist Congress Party (NCP) questioned the timing of the Devendra Fadnavis government's decision and said that Pawar was being targeted.
"Where is the outcome of the enquiry (against Ajit Pawar)?" NCP leader Nawab Malik said. The allegations are false, he added.
The Shiv Sena did not hold back when they said, "We are concerned about the people of Maharashtra, not the people of NCP and Congress."
Irregularities were noticed in the irrigation projects in 2012 by Vijay Pandhare, the then chief engineer in the water resources department. He had written to then chief minister Prithviraj Chavan and the governor.
After much hue and cry over the matter, Pawar had resigned from his post as Maharashtra deputy chief minister in September 2012. However, the then Congress government cleared Pawar of all charges and reinstated him.
The NCP alleges that it is a conspiracy, while the Bharatiya Janata Party says that it is taking action against corruption. Maharashtra Police, however, have not named the former deputy chief minister in its chargesheet that includes 10 names.
Presently, the CBI, the anti-corruption branch and such other agencies are working at the tune of their political masters," NCP leader Majid Memon told News18.

"So this is an entirely politically motivated exercise and as far as legality and factuality is concerned, we have heard about this irrigation scam for the past several years. Why was the Devendra Fadnavis government quiet for the past two years and why have they suddenly taken it up now, ask the CM and the concerned people if this is not a purely political vendetta," Memon asked.