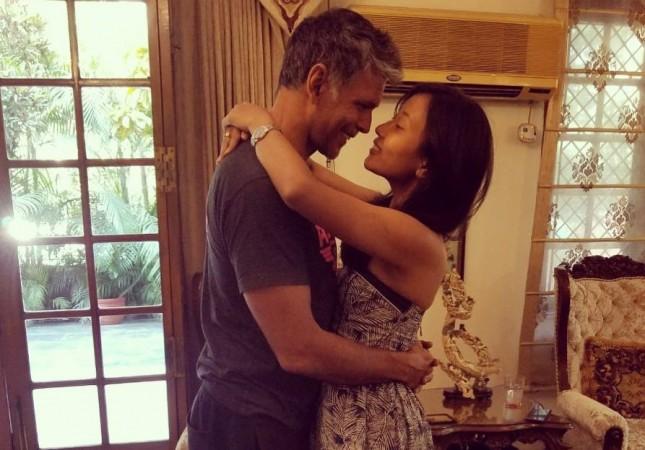 Milind Soman and girlfriend Ankita Konwar's unusual relationship is something the internet is quite obsessed with. A few days ago, reports suggested that the lovebirds were getting married at a private ceremony in Alibaug on April 21. But soon, rumors started doing the rounds that Konwar has called off her relationship with Soman for money.
But it looks like there is no truth to it. Konwar on Wednesday, April 18, shared an adorable picture with her man on Instagram which a romantic caption which is enough to put all the speculations to rest once and for all.
In the picture, Konwar and Soman were seen affectionately gazing into each other's eyes. The 23-year-old Guwahati girl captioned the image, "The best thing to spend on your relationship is time, conversation, understanding and honesty."
Rumors had suggested that Soman expressed his wish to marry Konwar but she decided to part ways with him for money just a few days before their marriage. It was being said that Konwar recently won a jackpot of around Rs 9 lakh while playing casino online. She was reportedly distancing herself from her boyfriend and stopped communicating with him.
Their fans started wondering why would Konwar leave Soman just for some money when they were so much in love. But Konwar's Instagram post has finally cleared the air about their rumored break up.
When one of Konwar's friend wondered "Don't know why sick people spread rumours of ur breakup on facebook", she replied, "idle mind is devils's workshop, ignore them."
Soman also commented on his girlfriend's post and called her a sweetheart.
A few days ago, Soman and Konwar had sparked rumors of them getting secretly engaged when the latter posted a picture flaunting a ring on her finger while holding her partner's hand.
"I don't want to know what it's like to live without you, Don't want to know the other side of a world without you," read the caption on the picture.
If everything falls into place, Milind Soman will be tying the knot for the second time. Earlier, he had married Mylene Jampanoi, a French actress, in 2006. But unfortunately their marriage was short-lived and they parted ways in 2009.