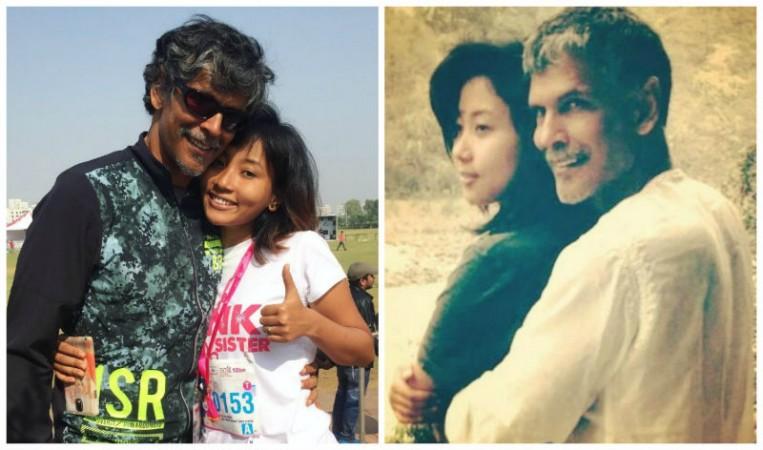 Milind Soman and his girlfriend Ankita Konwar are reportedly planning to tie the knot soon. They have come to a consensus on the date of her wedding as well, if the reports are to be believed.
According to The Times of India, Soman and his ladylove are going to have a private wedding April 21. It will be a simple ceremony in Alibaug with just friends and family members in attendance, the report said.
"Only close friends and family know about the wedding. The couple did not want to make their wedding a huge affair," the report quoted a source as saying.
Just a few days ago, there were rumors that Soman and Konwar had already got engaged. The rumors were based on a picture shared by Konwar on Instagram. She was seen wearing a ring in the photograph.
The photo, showing Soman and Konwar holding each other's hands, was uploaded with this caption: "I don't want to know what it's like to live without you, don't want to know the other side of a world without you".
Soman, 52, had been vehemently trolled on social media for dating a girl who is not even half his age. While it was earlier reported that Ankita was just 18 years old, later it turned out that she was around 23.
The trolls could not disturb the lovebirds and they continued posting the pictures of their romantic moments on Instagram.
Interestingly, Ankita Konwar is reportedly not her real name. India Today reported that her real name is Sunkusmita Konwar. Hailing from Guwahati, she was serving as a cabin crew executive in Air Asia.
They make a great match as both are fitness enthusiasts and have a hobby of participating in marathons.
Soman was earlier married to Mylene Jampanoi, a French actress, in 2006. However, their marriage didn't last long as they and they parted ways in 2009.